Share by Women for Women International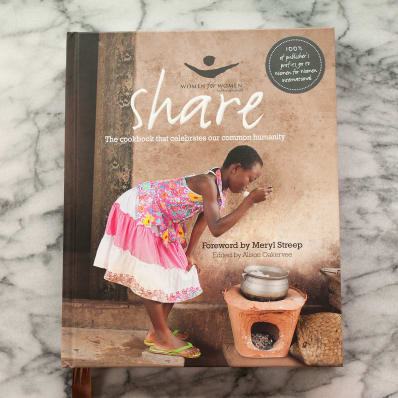 This is a cookbook about celebration: celebrating women who have survived war and other conflicts, and celebrating the foods that nourish us and bring us together. With recipes like sweet, cakey Sudanese Baseema and fragrant Burmese tomato fish curry, it's also a cookbook that will lift you right up from your seat and carry you straight into the kitchen.
Quick Facts
• Who wrote it: Women for Women International
• Who published it: Kyle Books
• Number of recipes: Over 100
• Recipes for right now: Pan-fried Fish with Dill, Mint, and Vegetable Pilaf; Sudanese Vegetable Salad of Eggplant and Peppers Tossed in Peanut Yogurt Dressing; Quorn and Pepper Tacos; Congolese Corn Fritters with Pineapple Salsa; Magical Banana Creole Cake; Rwandan Chicken Casserole; Nigerian Beef and Okra Soup
• Other highlights: Stories are as important and sustaining as food, and you'll find plenty of them here. Interspersed between the recipes, women tell their stories of survival and determination, and how they came to take part in the programs offered by Women for Women International. These stories often stand in stark contrast to the beautiful smiling faces and the bright plates of food on the surrounding pages, but this makes each woman's message of moving from victim to independence all the more powerful.
This book is practically a Who's Who of celebrity personalities. Everyone from Alice Waters and Jamie Oliver to Paul McCartney and Nell Newman have contributed recipes. I love the incredible diversity of tastes, ingredients, and personalities this brings to the table!
All of the royalties from this book go toward micro-financing and training women in food production and self-sustenance. Helping a good cause while adding a new trove of global recipes to my collection? That's a two-for-one deal I can definitely get behind.
• Who would enjoy this book? People interested in issues of women's rights, cooks who want to bring more recipes from around the world into their daily cooking.
Apartment Therapy Media makes every effort to test and review products fairly and transparently. The views expressed in this review are the personal views of the reviewer and this particular product review was not sponsored or paid for in any way by the manufacturer or an agent working on their behalf. However, the manufacturer did give us the product for testing and review purposes.
(Images: Emma Christensen)
Kitchn supports our readers with carefully chosen product recommendations to improve life at home. You support us through our independently chosen links, many of which earn us a commission.