Shannon's Labour of Love Kitchen in Ottawa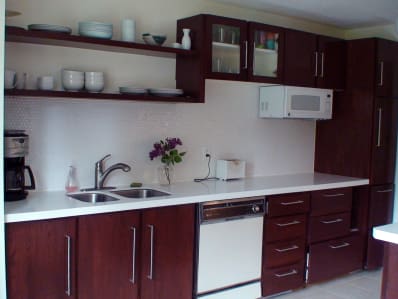 Who cooks here? Shannon, her husband, & daughters Ava & Edie
Location: Ottawa, ON
Owned or rented? Owned
Kitchen size: 112 square feet
What challenge have you overcome in your kitchen? The kitchen had an awkward layout with three doorways, little counter space, and a bulky fridge and stove directly opposite each other. We added open shelving (so handy!), moved a new counter-depth fridge to where a messy pantry used to be, and opted for a built-in cooktop and oven to further reduce the footprint of the appliances. Now one person can cook while another easily sneaks by. Not to mention we're not stuck in 1980 anymore.
Give Shannon a THUMBS UP if you think this kitchen belongs in the finals!
Thumbs Up Voting is only activated for 48 Hours — so don't delay!
What's the story of your kitchen?
(*Kitchen would measure larger than 112 sf if eat-in area is included.) Our kitchen has been a four-year labour of love - with the cabinets being custom-made by my father-in-law, and other work (e.g. tile and floor) with great help from my dad. Now (though it isn't yet finished) - we adore it.
What is your favorite meal to cook here?
We're all about comfort food - macaroni and cheese!