Seriously Simple Parties by Diane Rossen Worthington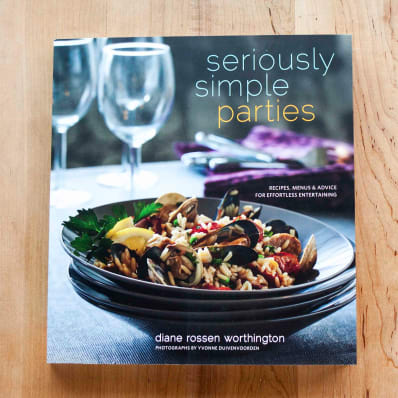 I tend to be a fairly nervous, overly-anxious hostess of dinner parties, and I am always envious of my friends who can casually finish a roast while simultaneously carrying on a conversation and pouring wine. Whether you identify with me or with my put-together friends, Seriously Simple Parties is a book that we can all appreciate. It's full of solid party-throwing advice and the kinds of recipes that will have you looking for an excuse to invite people over.
Quick Facts
• Who wrote it: Diane Rossen Worthington
• Who published it: Chronicle
• Number of recipes: Over 100
• Recipes for right now: Smoked Salmon with Crispy Shallots & Dill Cream, Penne with Roasted Broccoli & Pistachio Gremolata, Braised Chicken Thighs with Red Wine & Wild Mushrooms, Pomegranate-Marinated Grilled Lamb Chops, Caramelized Leek & Asparagus Crustless Quiche, Brownie Toffee Cookies, Rhubarb & Strawberry Crostata
• Other highlights: I love the idea that a dinner party can be a simple, everyday affair. Sometimes I get stuck thinking that it has to be a big Saturday night production with a fancy main dish and long-stemmed wine glasses. Through the recipes and ideas in this book, Diane Rossen Worthington reminds us that "entertaining" can be anything from a last-minute pizza party to a picnic at an outdoor concert. The point is to relax and enjoy yourself.
This book contains a lot of old party favorites, like Prosciutto-Wrapped Figs and Caprese Salad, along with with fresh and inspiring ideas, like an israeli cous cous salad with caramelized leeks and a mexican seafood saute. These are the kind of solid, dependable recipes that form the crux of a stress-free dinner party.
• Who would enjoy this book? Cooks who love to entertain and want fresh inspiration; nervous-nelly cooks who would like to enjoy entertaining more than they do (...ahem).
Find the book at your local library, independent bookstore, or Amazon: Seriously Simple Parties by Diane Rossen Worthington
Apartment Therapy Media makes every effort to test and review products fairly and transparently. The views expressed in this review are the personal views of the reviewer and this particular product review was not sponsored or paid for in any way by the manufacturer or an agent working on their behalf. However, the manufacturer did give us the product for testing and review purposes.
(Images: Emma Christensen)
Kitchn supports our readers with carefully chosen product recommendations to improve life at home. You support us through our independently chosen links, many of which earn us a commission.