Sarah's Mediterranean Chicken Pasta Quick Weeknight Meals Recipe Contest 2009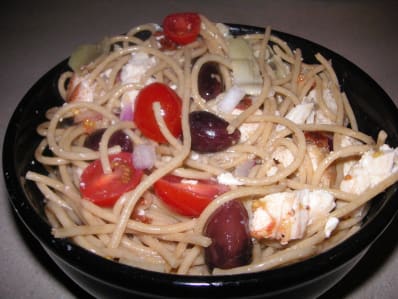 Recipe: Mediterranean Chicken Pasta
How long does it take? 30 minutes
Category: Omnivore
Name: Sarah
Why is it a favorite meal? This is a fast meal with many ingredients that are already on hand.
Mediterranean Chicken Pasta
4 oz. crumbled feta
1/2 pint cherry tomatoes, halved
7 oz. marinated artichoke hearts, quartered
4 sun dried tomatoes, minced
1/2 cup kalamata olives
1/4 of a red onion, finely chopped
2 chicken breasts
Salt and Pepper
1 tbsp olive oil
1/4 cup chicken broth
1 lb. whole wheat spaghetti (or other pasta)
Red Wine Vinaigrette (recipe below)
1. Bring a pot of salted water to boil and cook spaghetti according to package directions (about 10 minutes).
2. Add 1 tbsp olive oil to a pan and heat over medium heat. Sprinkle chicken with salt and pepper.
3. Add chicken to pan and brown on both sides. When browned, add chicken broth to pan. Cover and cook chicken until cooked through.
4. Set chicken aside and allow to cool. When cool enough to handle, cut the chicken into bite sized pieces.
5. When the spaghetti is done cooking, drain and add to a large bowl. Add the tomatoes, onion, artichoke hearts, sun dried tomatoes, olives, chicken, and feta to the bowl. Drizzle red wine vinaigrette over the dish and toss to combine.
Red Wine Vinaigrette:
1/4 cup red wine vinegar
1 tsp honey
1 tsp salt
1/4 tsp freshly ground pepper
1/2 cup olive oil
Add all ingredients to a small bowl. Whisk to mix together.
Thanks Sarah, and good luck! Readers, give Sarah a thumbs up if you like this recipe!