Sarah's Classy Grand Rapids Kitchen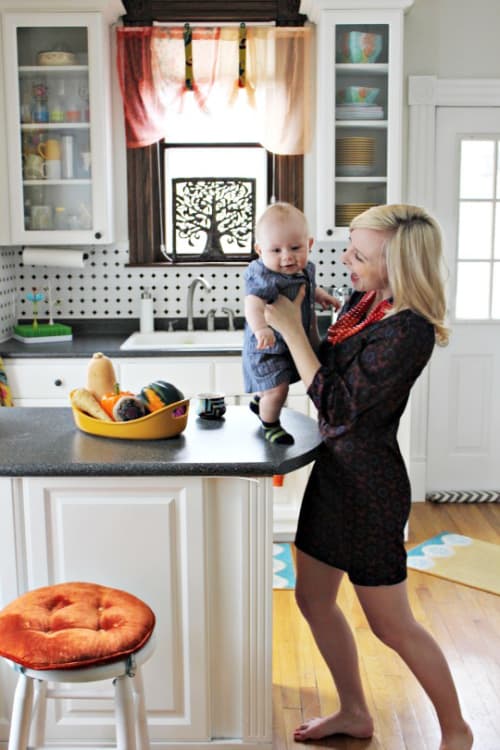 When Josh and Sarah moved into their lovely home in the Cherry Hill Historic District of Grand Rapids, they customized every nook and cranny to their impeccable style. Together Josh, a graphic designer, and Sarah run the lifestyle blog When Regarding Ruffles, so it's no surprise their house reflects all of their creativity — especially the kitchen! It's bright and cheery with tons of natural light and stylish white cabinets that contrast well with dark grey countertops.

I first met Sarah in college, and soon after was always at her apartment. She was able to transform even the most terrible college living into something that felt personalized, warm, and comfortable. I've attended many dinner parties in her amazing green dining room, each meal made complete with cute appetizers like tofu lettuce wraps, or cupcakes with little chevron flags on top. More than anything, though, she is an amazing meal planner and cooks meals that are delicious, seasonal, and right on budget.
The couple's 4-month old son, Asa, has certainly changed the way they operate at home, but Sarah continues to keep her kitchen in order and baby-friendly while still being super stylish. Her kitchen naturally flows right into the dining room (complete with an amazing bar cart). The original hardwood floors add class, while the high ceilings and cabinets with glass fronts show off dishes and glasses.
10 Questions for Sarah (and Her Kitchen)
1. What inspires your kitchen and your cooking?

A lot of factors must be considered into my cooking: time, budget, tastes, and seasons. I plan out our meals for the next week every Saturday and then do the shopping. This helps me stay within our budget and reduces all of the "thinking" time during our busy weekdays. Food that is healthy and filling is important for us, and if possible, unprocessed and local. I use a lot of online resources to find recipes and we also utilize our library to try out cookbooks. It is a great way to try new kinds of foods without forking out the price tag of a new cookbook you might not even like.
2. What is your favorite kitchen tool or element?

The gas stove, hands down. After years of living in apartments, I am so thankful for this glorious stove that I now call my own. The cast iron surface on our stovetop makes cooking techniques like searing very easy. The oven bakes things evenly and efficiently. What more could I ask for?
3. What's the most memorable meal you've ever cooked in this kitchen?

A few months after we bought our house we had a group of students we were mentoring over for a thanksgiving feast. Cooking the meal was a blast and we were able to fit all twelve of us around my grandmother's dining room table since it has three extra leaves. There is something magical about having so much life in one room. I loved that day.
4. The biggest challenge in your kitchen:

This might sound funny, but our ceilings. Since our ceilings are around twelve feet tall, which is awesome most of the time, it can be really difficult to get to ingredients that I store on the top shelves. It was a terrible pain when I was pregnant, too.
5. Is there anything you wish you had done differently?

The previous homeowners renovated the kitchen and they were definitely spot on in some ways and off in others. I would really prefer actual wood cabinets and a more unique countertop, maybe concrete? Eventually we will probably turn these ideas into a reality but it is definitely not a priority right now.
6. Biggest indulgence or splurge in the kitchen:

The appliances! Even though they came with the house when we bought it, they definitely played a huge part in us saying "yes" to this home.
7. Is there anything you hope to add or improve in your kitchen?

I would love to add a pantry. Right now we are using an old record cabinet to keep canned goods in but as our family grows we will need more space. Another thing that I dream about adding is an accent wall of loud, obnoxious wallpaper, maybe in hot pink or a bold pattern. I will have to do some convincing with my husband on that one!
8. How would you describe your cooking style?

Our cooking style is very similar to our decorating style that I would describe as eclectic, budget-friendly, and comfortable. The eclectic part comes from the variety of meal styles we have in a week. We might make Thai food one night, Italian the next, and Mexican the day after. It keeps things interesting for us. Budget definitely dictates our meals, too, and I make sure to buy things in season to help with that. The comfortable part is for my husband who loves savory foods, so we add those in there every once in a while too.
9. Best cooking advice or tip you ever received:

Don't be afraid to try your hand at cooking a new food, especially vegetables. I remember the first time I made potato-leek soup. We actually had to look up videos on how to cut up the leeks but we have been using them ever since. Also, explore food from all parts of the world. You might be surprised at what you end up liking!
10. What are you cooking this week?

Let's see. We had a Thai-inspired, vegetarian dish with couscous, a simple pasta dish, and goat cheese-squash quesadillas to name a few. It was a good week at our house.
Resources of Note


DIY, Craiglist, or antique store
Basket shelf on the wall

China Cabinet, thrift hutch and hand-me-down table-refinished

Typewriter table/bar

Record cabinet pantry

Grandma's dining room table
Other Resources
Refrigerator, Microwave and Dishwasher: Whirlpool

Stove: Fridgidare

Sink: Kohler

Kitchen Curtains: World Market

Dining Room Rug: Meijer

Dining Room Color: Valspar "Green Tree" in Semi Gloss

Coffeemaker: Cuisinart

Yellow Dishes: Noritake Colorwave Mustard Rim Dinnerware

Embroidered Dishcloths: Anthropologie
Thank you so much for letting us peek into your kitchen!
Share your own kitchen renovation or improvement!
We're always looking for real kitchens from real cooks.
Show us your kitchen here!
Post Contributed and Photographed by Emily Sandison
Kitchn supports our readers with carefully chosen product recommendations to improve life at home. You support us through our independently chosen links, many of which earn us a commission.