Sam and Judy's Cozy, Welcoming Kitchen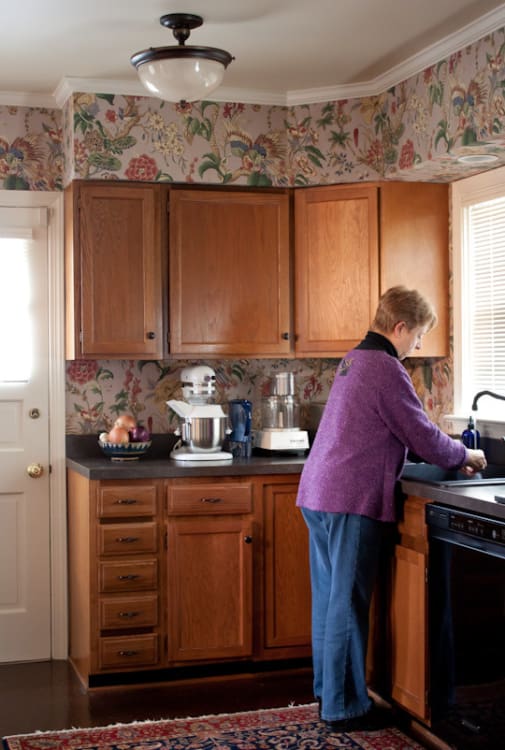 Despite having a relatively small space to work with, Sam and Judy have been entertaining and cranking out effortlessly delicious meals from this kitchen for years. The couple, both avid home cooks, moved into their cozy, two-bedroom Cape Cod style house in Northern Virginia in 1981. Though the bones of the kitchen are original to the house, a few features, such as a new kitchen sink and faucet, light fixtures, hardware, and wallpaper, were updated just over a year ago.
10 Questions for Sam and Judy (and Their Kitchen)
1. What inspires your kitchen and your cooking?

Sam and I both love trying new recipes and find the whole cooking process relaxing and creative—it is also a gift to the people you love and a great way to spend time with family and friends. We've been collecting cookbooks for years and learn something from each one.
2. What is your favorite kitchen tool or element?

I'd have to say my Cuisinart food processor, which I've had for forever, or my new Shun 6" chef's knife. Having a good knife really makes all the difference in the world!
3. What's the most memorable meal you've ever cooked in this kitchen?

There have been so many, but I think the meal for my 60th birthday dinner was probably one of the most memorable. We keep a notebook filled with menus and wines from special dinners—homemade French gougeres and some great, old French wines are some of the little details I can remember off the top of my head.
4. The biggest challenge in your kitchen:

One of the biggest challenges is not having a lot of countertop space to work with. We've made it work over the years, but I prefer plating in the kitchen (as opposed to doing more family style meals), so it can definitely be tricky sometimes.
5. Is there anything you wish you had done differently?

Most of the kitchen is original to the house, which is just over 65 years old. The kitchen cabinets were installed in the 1970s. We made a few cosmetic updates just over a year ago, which included changing the wallpaper and countertops, adding a new light fixture, replacing the sink (which I love), changing out all the hardware, and adding the mirror behind the stove.
If we did decide to majorly overhaul the space, we would probably add more countertop space and an island! You can also never have enough fridge space.
6. Biggest indulgence or splurge in the kitchen:

Probably our collection of All-Clad pots and pans! Good cookware has always been one of our biggest indulgences, but it lasts forever.
7. Is there anything you hope to add or improve in your kitchen?

More countertop and cabinet space would be great! Our working triangle could use a bit of help as well.
8. How would you describe your cooking style?

Our cooking style is very eclectic. Sam's Southern roots definitely are an inspiration, but we also love to cook European and French food, as well as play around with Asian recipes. Sometimes we prefer comforting, rustic meals, but other times, we really like to out-do ourselves and make elegant, multi-course dinners to make things extra special. We're open to everything!
9. Best cooking advice or tip you ever received:

Mise en place (having everything in its place) and the importance of tasting food throughout the cooking process.
10. What are you cooking this week?

Shrimp scampi with artichoke hearts, mushroom barley risotto, and at least one salmon dish!
Resources of Note:
Wallpaper: Thibaut Design in Highlands Beige
Stove: Jenn-Air
Sink: Silgranit (a material made from 80% natural granite stone, which is naturally resistant to chipping, scratching and staining and is heat resistant up to 536 degrees Fahrenheit) from Blanco America
Pots and Pans: All-Clad
Thank you so much for letting us peek into your kitchen!
Share your own kitchen renovation or improvement!
We're always looking for real kitchens from real cooks.
Show us your kitchen here!
(Images: Laura Davidson)