Salt Block Cooking by Mark Bitterman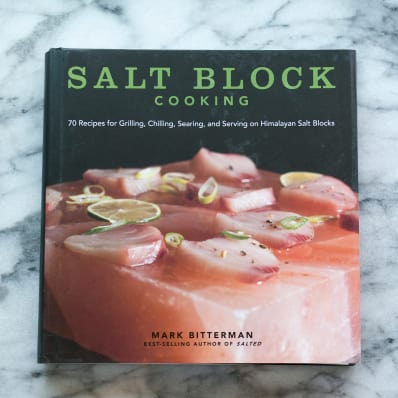 As Mark Bitterman explains in the intro to his latest book, "Salt blocks can cook, cure, cool, freeze, caramelize, brown, soften, firm, crisp, and show off food while making it more digestible and flavorful." Woah. If you're looking for a brand new way to cook your food and amaze your dinner party guests this summer, I think you've just found it.
Quick Facts
• Who wrote it: Mark Bitterman
• Who published it: Andrews McMeel Publishing
• Number of recipes: 70
• Recipes for right now: Watermelon and Feta on a Salt Block, Salt Block Cured Gravlax, Quick-Cured Vegetable Pickles, Salt Brick Grilled Chicken, Salt-Grilled Cheeseburger Sliders, Salt-Crisped Whole Fish, Salt-Frozen Mocha-Panna Cotta Gelato, Salt-Cured Strawberry Ice Cream
• Other highlights: If the idea of cooking with (or on...or under...) a salt block is totally foreign to you, don't worry. Mark Bitterman begins this cookbook with a thorough look at salt block cooking, covering everything from why you might want to give this crazy idea a try to how to clean, maintain, and store your salt block.
The recipes really show the breadth of salt block cooking. This is much more than just a pretty way to serve cheese at a party! You can heat salt blocks on the grill, freeze them for candy-making, or put it in the oven for baking breads of all kinds. The recipes go over these techniques in great detail so we can feel confident heading into the kitchen.
Curious? So am I. Step one: Read through this book. Step 2: Procure salt block. Who's with me?!
• Who would enjoy this book? Cooks curious to try new cooking techniques, people who have already taken the plunge into salt block cooking.

Find the book at your local library, independent bookstore, or Amazon: Salt Block Cooking by Mark Bitterman
Apartment Therapy Media makes every effort to test and review products fairly and transparently. The views expressed in this review are the personal views of the reviewer and this particular product review was not sponsored or paid for in any way by the manufacturer or an agent working on their behalf. However, the manufacturer did give us the product for testing and review purposes.
(Images: Emma Christensen)
Kitchn supports our readers with carefully chosen product recommendations to improve life at home. You support us through our independently chosen links, many of which earn us a commission.