Salad of the Day: 365 Recipes for Every Day of the Year by Georgeanne Brennan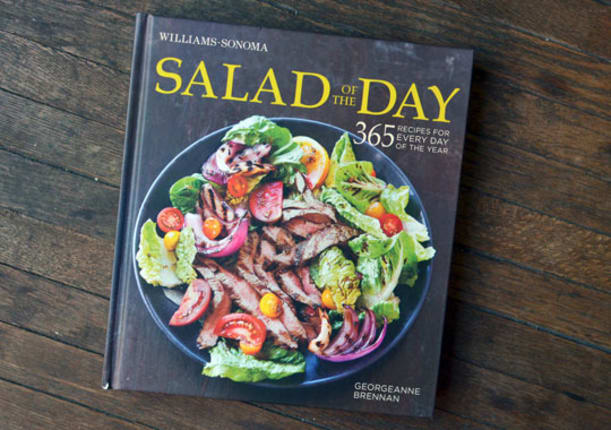 It's a truism in the cookbook publishing industry that salad books don't sell well. I have always found this hard to believe, especially when you come across such a lavish, gorgeous, and inspiring book as Georgeanne Brennan's Salad of the Day, which makes me want to not only toss a salad together every day, but buy the book for all my friends so they can too.
The premise of this book is simple and well-executed: A seasonal salad recipe for every day of the year. The book is organized by date, with calendars at the beginning of each month's chapter, showing you what's coming up. There is a nice blend of side dish salads and heartier salads, especially ones with whole grains like farro. There's a wonderful range of color and texture here; I get inspired by nearly every recipe!
Quick Facts
• Who wrote it: Georgeanne Brennan (visit her website)
• Who published it: Weldon-Owen for Williams-Sonoma
• Number of recipes: 365
• Recipes for right now: Potato Salad with Green Beans & Cucumber Yogurt Dressing, Lentil Salad with Feta, Farro Salad with Creamy Artichoke Dressing, Stone Fruit Salad with Hazelnuts & Blue Cheese, Salade Nicoise with Seared Wild Salmon
• Other highlights: This is a big, handsome book, but still one that feels accessible for the kitchen. It doesn't haven't a jacket, and I feel comfortable propping it up on the counter. There are so many truly gorgeous photos that I feel inspired every time I dip into the book.
If you're looking for some fresh salad inspiration, this is a terrific place to start.
Find the book at your local library, independent bookstore, or Amazon: Salad of the Day: 365 Recipes for Every Day of the Year
Apartment Therapy Media makes every effort to test and review products fairly and transparently. The views expressed in this review are the personal views of the reviewer and this particular product review was not sponsored or paid for in any way by the manufacturer or an agent working on their behalf. However, the manufacturer did give us the product for testing and review purposes.
(Images: Faith Durand)
Kitchn supports our readers with carefully chosen product recommendations to improve life at home. You support us through our independently chosen links, many of which earn us a commission.