Smart and Safe Idea: Allergy Alert Temporary Tattoos for Kids from SafetyTat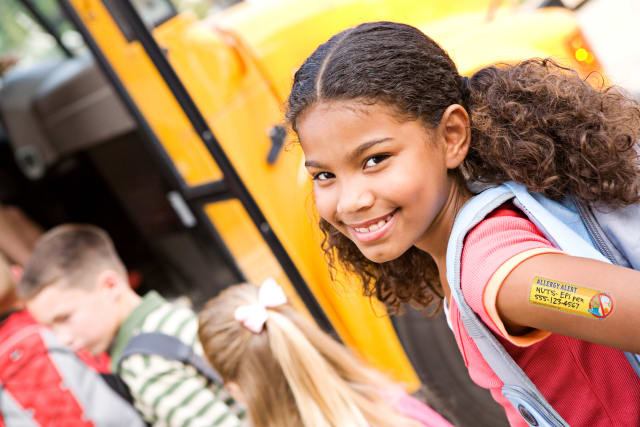 The smartest idea came across my desk today: a tool to help give parents peace of mind when taking kids on vacation or packing them off to a field trip with supervising adults who may not be aware of allergies. These temporary tattos are a cheery little tool for making sure the right info stays with the right kid.
I'm from a huge family (oldest of eight) so I know how chaotic it can be to travel with a bunch of kids. And while we were lucky to not suffer any major or life-threatening food allergies, I have friends who do, and I know parents who have to be very careful with what their children can and can't eat.
These tattoos are bright, kid-friendly stickers that let parents indicate medical conditions or allergies. They certainly aren't a replacement for a knowledgeable teacher or an EpiPen, where appropriate, but if you have a child with a severe allergy, one who's starting to bop around town and go on day trips with school or sports, then these might be a good way to help make sure they are always connected to key info.
What do you think? Would you use these tattoos? Or do you think they'd just be embarrassing to the kiddos? How do you make sure your kids' allergies are handled safely when they're away from the home?
(Images: SafetyTat)
Kitchn supports our readers with carefully chosen product recommendations to improve life at home. You support us through our independently chosen links, many of which earn us a commission.