Robert's Delightfully Designed New York Kitchen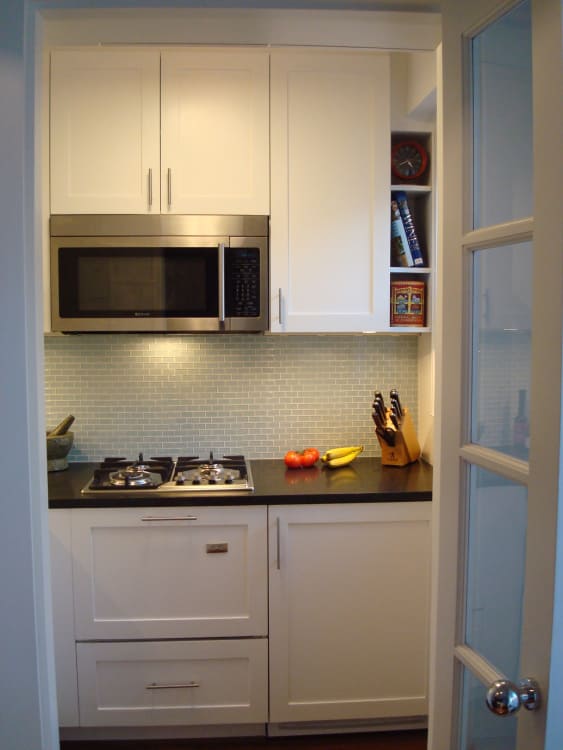 Who cooks here? Robert
Location: New York, NY
Owned or rented? Owned
Kitchen size: 35 square feet
What challenge have you overcome in your kitchen? The kitchen's tiny size and access to the plumbing chase made designing the entire kitchen a challenge. To gain functionality, my main objective was to obtain more countertop space. I was able to achieve this by installing an undercounter refrigerator, gaining five new square feet of countertop. (continued)
Give Robert a THUMBS UP if you think this kitchen belongs in the finals!
Thumbs Up Voting is only activated for 48 Hours — so don't delay!
What challenge have you overcome in your kitchen? (continued)
Unfortunately, most manufactures don't include frost-free technology in their undercounter refrigerators. This led me on a hunt to find all the perfect appliances for the kitchen. After much searching, I was able to install all the appliances desired in a modern kitchen - the only frost-free undercounter refrigerator on the market at the time, a gas cook-top with a 3,500 BTU burner, a microwave/convection-oven/vent and an single dishwasher drawer.
What's the story of your kitchen?
The original kitchen in my apartment had no design or thought as to functionality. It was essentially a closet for 40 year old appliances, rotting laminated particle board cabinets and 2 square feet of usable counter space. My desire in renovating was to gain a new kitchen with all the functionality of a large modern kitchen, only in smaller proportion.
What is your favorite meal to cook here?
Having such a small kitchen and lack of space to store items, one learns to love shopping for the freshest ingredients daily and just cooking is a delight!