Ripe: A Cook in the Orchard by Nigel Slater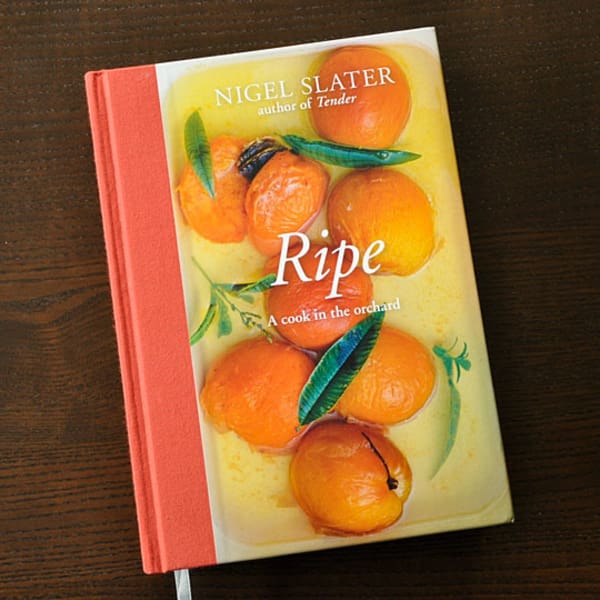 Be warned: this book will induce in the reader an immediate and barely contained desire for a backyard orchard of one's own along with a deep craving for fruit that cannot be ignored. Neither of these is necessarily a negative prospect, but you should know going in that you will be facing some serious fruit-based temptation.
Quick Facts
• Who wrote it: Nigel Slater
• Who published it: Ten Speed Press, reprint
• Number of recipes: Over 100
• Recipes for right now: Blackberry Bread-and-Butter Pudding, Baked Peaches with an Almond Crust, Ricotta Cake with Raspberries, and Roast Leg of Pork with Rhubarb
• Other highlights: This is so much more than a cookbook. With each chapter focusing on a different fruit, Slater offers tips on growing the fruit in your garden, characteristics of the most common varieties, how to handle them back in your kitchen, and tried-and-true ingredient pairings (cherries and chocolate, apricots and yogurt, plums and duck). Slater feels like a companion on a fruit-finding journey.
I really appreciate the number of savory fruit dishes alongside the mouthwatering desserts. When we pick up a pint of raspberries or a bunch of rhubarb at the market, our thoughts (or at least mine) almost immediately turn to cobblers and ice cream. Slater offers plenty of these, but also includes ideas for pairing with pork, lamb, beef, fish, and vegetables. That recipe for roast pork with rhubarb is definitely on my list to make before the season is over.
• Who would enjoy this book? Fruit lovers, cooks looking for new things to do with fruit this summer, gardeners
Find the book at your local library, independent bookstore, or Amazon: Ripe: A Cook in the Orchard by Nigel Slater
Related: Look! A Peek in Nigel Slater's Kitchen
(Images: Emma Christensen)
Kitchn supports our readers with carefully chosen product recommendations to improve life at home. You support us through our independently chosen links, many of which earn us a commission.