Restocking and Destocking: My Kitchn Cure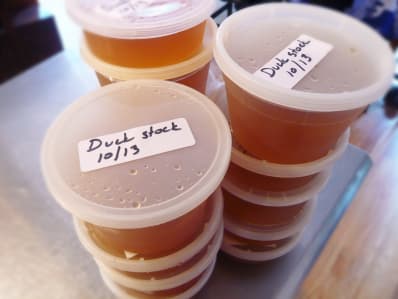 Day 5 Task: Restock ingredients
I needed more destocking than restocking. Judging from the mess in my fridge, freezer and pantry, I had everything I needed. It was time to use it! But all that shiny, empty space was tempting, so I did add a few things.
The first thing I did was take stock of my stock (ha!). I was down to one container and I had a bag of duck bones and onions in the freezer, so I knew what I had to do. I even managed to use a few more things in the fridge that needed to go away. I started the stock in the slow cooker in the morning, strained it that afternoon, left it in the fridge overnight so the skimmable fat would rise to the top and put it in freezer containers the next morning, so it didn't even interrupt my schedule. I was so proud of myself, I Instagrammed the moment.
Making stock makes me so darn happy: it's like free food. Aside from any seasonings I might use, most of what goes into the stock would be tossed. Buying stock by the box or can is expensive. I make about $50 to $80 worth of stock with every batch. How cool would it be if someone walked up and handed me that kind of cash? Way cool.
There really wasn't anything else I needed, but I do like to have frozen broccoli, spinach, corn and peas in the freezer, so I bought a back-up bag of each.
Since I was at the store, and chili weather is around the corner, I picked up a few cans of mixed chili beans and what I insist on referring to as "Rotel Tomatoes," even though I don't usually buy that brand. Old habits die hard, and I will probably never call these Muir Glen Fire Roasted Tomatoes with Green Chilis by their name, but that's what they are!
I really enjoyed putting the cans in my now well-lit and organized pantry. And the duck stock filled an entire wire basket in the freezer. My destocking has been so rewarding, I hesitate to add more. We're lucky enough to live within walking distance of our favorite local healthy market and a five minute drive from the all-local weekend farmers' market and other great stores, so I really don't need to plan ahead too much.
How is your Kitchn Cure going? I find it spilling over into other areas of my life. I have my eye on my shoe racks, and I know just the place to consign them!
Join The Kitchn Cure!
SIGN UP
FOLLOW ALONG
SHARE YOUR PROGRESS
Questions? Comments? Pictures? Email us at kitchncure@thekitchn.com
Follow and show your progress on Instagram, Pinterest, Facebook and Twitter! Use The Kitchn Cure hashtag: #kitchncure
(Images: Anne Postic)