Before & After: A Dark Brown Kitchen Gets a Bright Monochromatic Makeover and a New Vibe
We
independently
select these products—if you buy from one of our links, we may earn a commission. All prices were accurate at the time of publishing.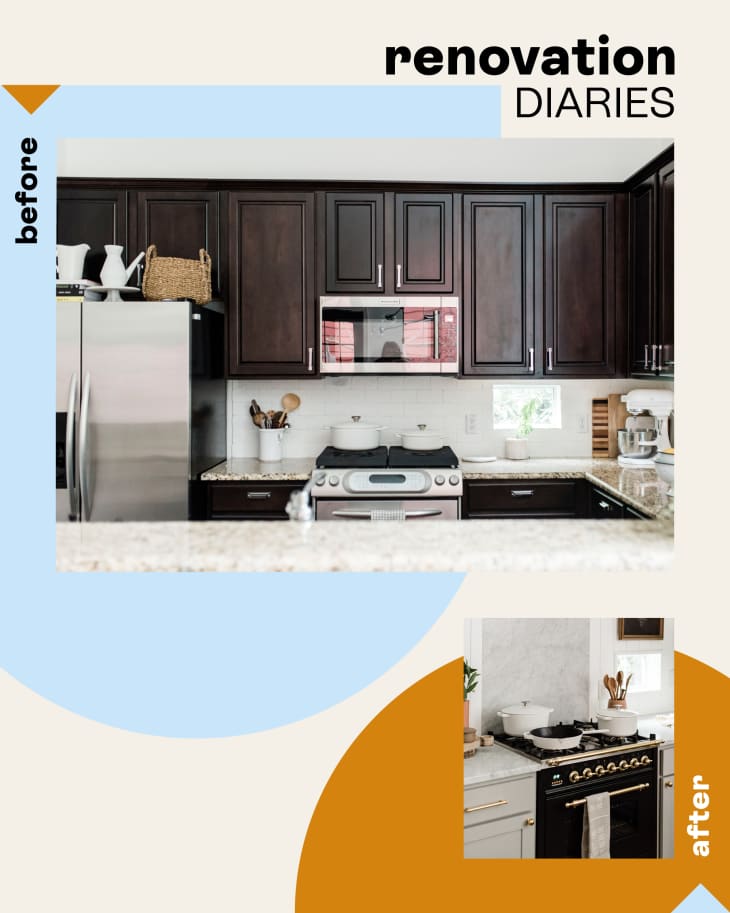 Sometimes kitchens need redoing because they're just not functional enough or designed well. But that wasn't the case for Austin, Texas, homeowners Anastasia and Quinn Casey who embarked on a kitchen renovation that would ultimately lighten the mood. Their 120-square-foot kitchen was … "so brown," Anastasia says of her cottage-style home purchased in 2017. In fact, it was brown, with a hint of "faux Tuscan," and it just wasn't her vibe.
Built in 2006, the kitchen had a great layout with an ideal work triangle, plenty of storage — including a pantry — and perfectly nice cabinets, she says. They even used the kitchen for two years before starting the renovation.
Still, while her kitchen would have been just fine as it was, Anastasia wanted it to feel lighter and brighter. The location of the kitchen in the home, and a serving bar on one side, made it feel like everything was shoved in a corner, and she wanted the space to feel cohesive with the rest of the house.
Plus, the dark cabinets stopped three feet short of the 11-foot ceilings, and Anastasia wanted to fully maximize the space available to them. So they rolled up their sleeves, and started envisioning what their dream kitchen might look like.
It would be easy to believe Anastasia is an interior designer just looking at the finished kitchen she spent about two years planning and dreaming up on her own. (While she isn't one, she does work with a few at her boutique design studio, IDCO.) The beautiful result looks like a million bucks, but the entire budget was really $22,000. 
One of the biggest changes was simply removing a visual barrier. The kitchen peninsula had a bar-height ledge that stuck 10 inches above the rest of the counters, and it blocked the sightline from the living spaces.
That one element broke the visual flow of the rest of the house and made the kitchen feel like a separate space. Anastasia made the ledge level with the rest of the counter and presto — it immediately felt more open!
In order to do away with the sea of brown, Anastasia brought in a fresh new color palette —an elegant monochromatic look with warm whites and grays (including the cabinet fronts) and changed out cabinet doors for the clean lines of a Shaker style from Cabinet Door World. She also redid the cabinetry, making it much taller to fill the space above the fridge.
New Carrara leathered marble counters in a soft white and gray brightened up the space dramatically. A very clever decision the couple made was to use a cut-out piece from the sink area as their backsplash.
Swapping upper cabinets for long, custom floating shelves further lightened and brightened the room. Anastasia topped these with her collection of plates, cups and drinking glasses, and a few pieces of serveware.
They then wrapped the range hood and peninsula base in shiplap painted the same clean white as the walls for a dreamy backdrop to the art and dishes on display.
A little quirk of the kitchen was a couple of oddly placed, tiny windows. Anastasia was determined to work with them and created a unique moment with a vintage piece of thrifted art above one, capped with a library light that perfects the scene. 
Anastasia's Renovation in 10 Simple Steps 
Step 1: Design a dream kitchen.
Step 2: Swap out cabinet fronts, and paint cabinets with a warm, neutral gray.
Step 3: Trade out a few upper cabinets for open shelves.
Step 4: Paint the kitchen a clean, bright white.
Step 5: Reduce peninsula bar to counter level.
Step 6: Install marble countertop.
Step 7: Wrap peninsula and range hood in shiplap painted white.
Step 8: Replace appliances.
Step 9: Add art, brass touches, and library lights.
Step 10: Organize the pantry with plenty of jars and baskets.
The whole renovation took about six weeks, and Anastasia and Quinn couldn't be happier with the results.
If they could only change one thing, it would be the fairly minor detail of adding a panel-ready fridge, but having a stainless steel fridge doesn't prevent Anastasia from absolutely loving the newly renovated kitchen. It brings them so much joy that sometimes they sit in the next room and just stare in awe. (We can't blame them!)
Thanks for sharing, Anastasia!
For more kitchen makeover stories like this one, check out: