The Pioneer Woman Puts Pineapple and Black Olives on Pizza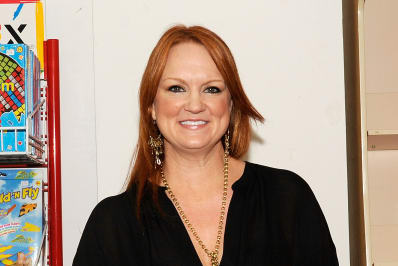 (Image credit: Bobby Bank/Getty Images)
People have been fighting over whether or not pineapple is allowed on pizza for years, and the debate doesn't show any signs of stopping. Gordon Ramsay has delivered profanity-laced diatribes against pineapple pizza, only to have Alton Brown clap right back to defend it. Even the President of Iceland has an opinion on the pizza topping (he's not for it). So it was surprising this week when Ree Drummond just casually put a Hawaiian pizza recipe on Facebook as though she was totally oblivious to this very heated discussion.
The pizza in question can be found in a video that Ree made this week. She created eight different French bread pizzas, using grocery store and homemade toppings.
Ree basically has her countertop set up as a make-your-own French bread pizza bar. She has deli rolls sliced in half, jars of marinara, Alfredo and pesto sauce, and an assortment of different cheeses, meats, vegetables, and other toppings. In the video she starts assembling the pizzas with whatever seems like a good idea at the moment. She has an "all the meats" pizza, of course, and a chicken Alfredo one, too.
Then, halfway across her baking sheet, she makes a Hawaiian pizza with marinara sauce, provolone, Canadian bacon, the infamous pineapple and then, as if pineapple were not contentious enough, she tops the whole thing with black olives.
Black olives and pineapple are a bit of a cult-favorite pizza topping built out of two of the least favorite pizza toppings imaginable. The people who hate pineapple on pizza can be very loud about it, and black olives are probably one of the most picked-off pizza toppings around. A small but passionate group of people love the combination of the salty, briny olives with the syrupy sweet pineapple, and it feels like they're doomed to spend their whole lives trying to convince other people to try it. Maybe they'll have an easier time now that the Pioneer Woman has introduced the combo to her 4.7 million Facebook fans.
Would you ever try pineapple and black olive pizza?