Reddit's Smart Tip for Getting Through the Starbucks Drive-Thru Faster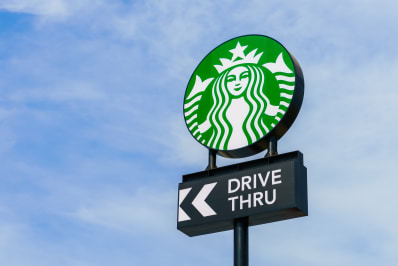 (Image credit: jannoon028/Shutterstock)
The Starbucks drive-thru is enormously convenient, but it's not always the quickest option when you're in a hurry. Often it seems as through the Starbucks drive-thru is actually slower than going into the store. That's especially true during peak periods, when there's often a line of a dozen cars of people waiting for coffee and breakfast sandwiches on their way to work.
With so many people trying to use the drive-thru at once, the smallest things can help get everyone caffeinated and on their way much faster. That's why, over on the Starbucks forum on Reddit, a poster going by SincerelyMonroe just did everyone a huge favor by posting a simple but supremely useful tip for frequent drive-thru users: Order the food first, then the drinks.
"When you're in the drive thru in the busy mornings and plan on getting food with your order, say the food first!" SincerelyMonroe wrote. "This will help us get you in and out a little quicker, especially if you have a few beverages in your order."
The logic behind the tip is that if you order the food first, it can be getting warmed up while you place the rest of your order. Then the whole order will be ready by the time you get to the window. It might not make a huge time difference if your order is very simple, but for large orders or orders with multiple beverage modifications, your sandwich could be ready by the time you finish saying, "grande no-whip three-pump nonfat mocha with caramel syrup and a Unicorn Frappuccino on the side."
It's simple, and so logical I cannot believe this never occurred to me. I have definitely been ordering wrong at the Starbucks drive-thru my entire life.
Other commenters joined in with tips for how to get through the drive-thru faster and make everyone's lives a little easier. For example, if you're checking to see if they have a food item, mention your backup choices at the beginning, so the barista can check them all at once.
"If I'm ordering a protein box, I usually say, 'Do you happen to have the PB&J Box? And if not, possibly the Apple and Cheese box?" one frequent Starbucks customer explained.
And also, if you intend to pay with the Starbucks app, it's enormously faster if the app is open and ready to go when you get to the window. Because Murphy's Law means that if your phone is ever going to freeze, get a weak signal, or have trouble loading, it's going to be at the Starbucks drive-thru window while eight cars are waiting behind you.
In fact, another Redditor had an amazing tip that applies to way more than just Starbucks. For anything that involves scanning a barcode or QR code on your phone, like the Starbucks app, just take a screenshot of the barcode. Then you'll have it in your phone's photos, and you'll never again have to worry about a bad signal or slowly-loading app while you're trying to pay.
Do you have any tips for getting through the drive-thru faster?