This Kid's Costco Costume Wins Halloween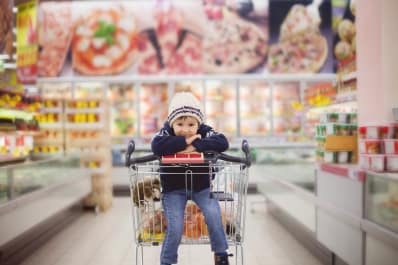 (Image credit: Tomsickova Tatyana/Shutterstock)
Kid costumes for Halloween are all super cute, but this one might be the cutest. Facebook and Reddit are abuzz with a photograph of an unidentified child (although their name seems to be Sloan by the nametag) offering their best "Would you like to try a sample of Kirkland signature's new granola bar?" as a Costco employee.
The costume is extremely accurate-looking too, considering the hat with the hair net, name tag, and product sign (the font and SKU number for the granola bars are accurate even — I checked!). That ... is impressive. Whoever put Sloan in this costume is either an employee of Costco, a type-A graphic designer, or both. Probably both.
This costume has proven extremely popular on Facebook group Costco Bear, where as of writing it has received 19,000 likes, 30,710 shares, and more than 35,000 comments, most of them consisting of people alerting other people to the absolute adorableness of Sloan, sample-giver extraordinaire. Many people said they wanted to dress their children up in the same costume as well.
It appears Sloan won't even have competition in the Costco Queen department, since another post on Costco Bear featuring a bunch of adults in similar Costco sample costumes hasn't even crossed the 100-like mark as of this writing. You really didn't have a chance, grown-ups.
On Reddit, Sloan has already gotten a Halloween-appropriate 666 upvotes (and I promise I'm not making up the number, either), It appears even the underworld has an affinity for free samples.
More Adorable Halloween Costumes for Kids
What is your kid dressing up as for Halloween?