Recognize This Veg?

Yellow vegetables streaked with pink are usually discarded. They're past their prime.
Between the organic oranges and the bacon baps, this was for sale this morning in London's Borough Market. It looks more like a flower than a green.
Do you know what these sunny dappled leaves are?
Check out the picture of the sign posted above these leaves after the jump . . .
The sign hanging above these curious leaves said: Dandelion – Pissenlit.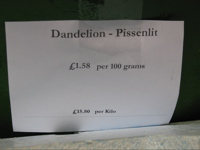 Wondering what Pissenlit means? Wikipedia tells us pissenlit means just about what it sounds like: urinate in bed. Pissenlit is modern French for dandelion and also refers to a style of Belgian beer made with dandelion.
But the leaves I found this are far more refined and unragged. The texture was delicate and far more crisp than the standard dandelion. The yellow is lighter and all those perplexing pink spots. So what is this vegetable?
The stall's keeper couldn't stop unloading her trucks in the rain, so I couldn't ask. Does anyone recognize these leaves?
Published: Feb 22, 2007