Recipe: Weeknight Winter Salad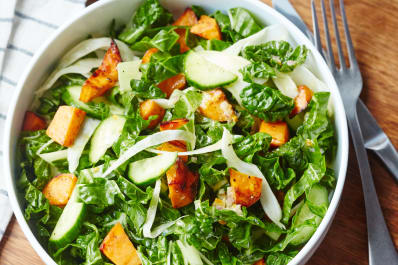 (Image credit: Lauren Volo)
If you're suffering from lettuce fatigue, it's time to look further down the produce aisle to sweet Swiss chard. This hearty but tender green is the base of our favorite winter weeknight salad. It's filled with shaved fennel, cubed sweet potato, and sliced cucumber and tossed with an orange vinaigrette. No need to get too fancy here — we want this to be a side dish that goes with everything from skillet pork chops to a hearty lasagna. It might be a reach, but I wouldn't be surprised if enjoying this salad once a week helped chase all the winter blues away.
Swiss Chard Salads Rule!
I always recommend Swiss chard to people who find kale too vegetal or intense in flavor. It doesn't wilt like more tender lettuces, so it can be dressed ahead of time. In fact, it absorbs dressing like a champ and tastes better after it sits for a bit. I kept the tossed salad in the fridge for three hours, and it still tasted great at that point.
(Image credit: Lauren Volo)
Cooked sweet potato cubes make this salad hearty, and I love the soft textural contrast they add. Sauté them up quickly on the stovetop or roast them in the oven when you're baking something for the rest of dinner. You might find yourself with some leftover orange vinaigrette from this recipe, so save it for your next salad or for drizzling over cooked fish or chicken.
Weeknight Winter Salad
For the dressing:

1/3

cup

extra-virgin olive oil

1

teaspoon

finely grated orange zest

2

tablespoons

freshly squeezed orange juice

2

tablespoons

white wine vinegar

2

tablespoons

finely chopped shallot

1

tablespoon

Dijon mustard

1/2

teaspoon

kosher salt

Freshly ground black pepper
For the salad:

1

large sweet potato (about 12 ounces)

1

tablespoon

extra-virgin olive oil

Kosher salt

Freshly ground black pepper

1/2

bunch

Swiss chard (about 6 ounces)

1

medium fennel bulb (about 10 ounces)

1/2

medium English cucumber (about 8 ounces)
Make the dressing: Whisk all the dressing ingredients together in a small bowl until combined; set aside for the flavors to meld.
Make the salad: Peel and cut the sweet potato into large dice (about 3/4-inch). Heat the oil in a large frying pan over medium heat until shimmering. Add the sweet potato, season with salt and pepper, and cook, stirring occasionally, until tender and browned around the edges, about 10 minutes. (Alternatively, roast the sweet potato instead. See Recipe Notes below.) Meanwhile, prep the remaining vegetables.
Cut the Swiss chard crosswise into 1/2-inch-wide ribbons and place in a large bowl. Halve the fennel bulb through the core, very thinly slice crosswise, and add to the bowl. Halve the cucumber lengthwise, cut crosswise into thin slices, and add to the bowl; set aside.
When the sweet potato is ready, immediately add to the bowl of vegetables, drizzle with about 1/3 of the dressing, and toss to combine. Taste and toss with more dressing as needed (you might not use all the dressing).
Recipe Notes
Roast the sweet potato instead: Arrange a rack in the middle of the oven and heat to 400°F. Toss the diced sweet potato with the oil on a baking sheet and season with salt and pepper. Spread into an even layer. Roast until golden-brown, stirring halfway through, about 30 minutes total. Prep the vegetables and make the dressing while the sweet potato is roasting.
Make ahead: The sweet potato can be cooked, the dressing made, and the vegetables cut up to 2 days ahead. Store in separate airtight containers in the refrigerator. The tossed salad can also be stored in the refrigerator for up to 3 hours.