Recipe: Sweet Potato Latte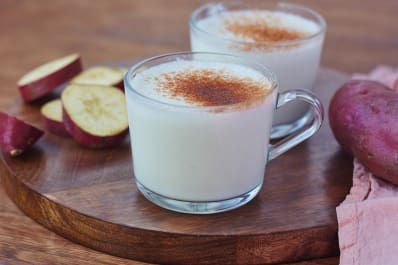 (Image credit: Lauren Volo)
In Korea, sweet potatoes are more than just root vegetables — they're a celebrated food staple and vessel of the country's culture and kinship. Whether you're using it in soups, snacks, or desserts, or simply eating it steamed and plain, there are many ways to enjoy this comforting tuber.
When I lived in Korea for the second time, as an adoptee returned to teach English for four years, one of my favorite ways to enjoy the Korean sweet potato, or goguma, was in latte form. This beverage consists of only three ingredients: Korean sweet potato, milk, and sugar — not an ounce of caffeine in sight — but it's delightful.
After moving back to the United States, my nostalgia for Korea brought me all around New York in search of the goguma latte of my memories. At the time, I was never able to find it. So I decided to make it myself. And while the drink has popped up, rather unreliably, at a handful of cafes since then, I continue to make it myself, because it's the process that I love.
(Image credit: Lauren Volo)
The Korean sweet potato has purplish skin, ivory flesh, and a chestnut-like flavor. It makes the goguma latte a goguma latte. But if you can't find the Korean sweet potato at your local market, it's perfectly fine to substitute another variety of your choosing.
For me, if the Korean sweet potato is in hiding, I tend to turn to the speckled purple, which has a similar nutty quality, and the garnet, because of its pumpkin-like profile. Experiment, taste the difference, and find your favorite. Half the joy of making a sweet potato latte is making it your own.
Read the essay: Remembering Korea with a Sweet Potato Latte
Sweet Potato Latte
1

cup

Korean sweet potato, steamed, peeled, and broken into chunks

2

cups

hot whole milk

1

tablespoon

granulated sugar

Ground cinnamon, for garnish (optional)
Place all of the ingredients in a blender and blend on high speed until smooth and frothy, about 30 seconds. Garnish with ground cinnamon if desired and serve immediately.