Recipe: Roasted Onions Stuffed with Wild Rice and Kale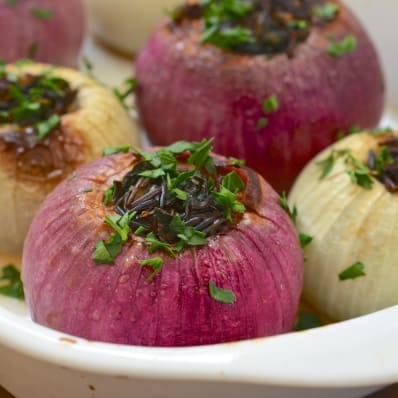 Although it forms the foundation of so many meals, the humble onion rarely gets showcased front and center. The first time I cooked a whole, stuffed onion, I was a bit apprehensive; would it be too pungent, too odiferous, too much? In fact, it was succulent and sweet and made the perfect vessel for stuffing. I instantly imagined serving roasted stuffed onions at Thanksgiving or any cozy fall dinner.
This particular recipe was inspired by one of my favorite dishes, kale sautéed with onions and golden raisins, along with nutty, chewy wild rice.
There are a few ways to make stuffed onions, including hollowing them out while raw, dunking them in boiling water to soften, or roasting them in two stages. I like the latter method, which seems to make the onions sweeter. The initial roast softens the onions so that you can remove the flesh. Some of this flesh gets chopped up and added to a filling of wild rice, kale, and golden raisins. (The rest you can save for other dishes — let me suggest Onion-Thyme Jam.)
After stuffing the onions, they get roasted once more with a splash of white wine. The final dish is tender, fragrant, and well-balanced with the combination of mellowed onions, earthy kale and wild rice, and chewy bursts of sweetness from the raisins. If nut allergies aren't a concern, feel free to throw a handful of pine nuts or pecans into the stuffing. As written, the recipe is friendly to nut-free, gluten-free, vegetarian, and vegan diners.
Roasted Onions Stuffed with Wild Rice and Kale
Serves 6
2/3 cup uncooked wild rice
6 sweet yellow and/or red onions (about 10 ounces each)
2 tablespoons extra virgin olive oil, divided
1 garlic clove, minced
1 tablespoon chopped fresh thyme (or 1 teaspoon dried)
8 ounces kale, stems removed and leaves chopped
1/4 cup golden raisins
1 teaspoon kosher salt
1/4 teaspoon freshly ground pepper
1/2 cup dry white wine, divided (can substitute vegetable stock)
1 tablespoon chopped flat-leaf parsley
Cook wild rice according to package instructions or use the boiling method.
Preheat oven to 400° F.
Cut off the top 1/2-inch from the onions and trim just enough from the bottoms so they can stand upright. Wrap each onion in aluminum foil and roast until soft, about an hour. Remove from the oven, unwrap, and let rest until cool enough to handle.
Peel the onions and pull out the centers, leaving the outer 2 layers to form a shell. Place the onions in a baking dish. Measure and chop 1 cup of the onion flesh (save the rest for another use).
Heat 1 tablespoon of olive oil in a large skillet. Add the chopped onion and garlic and cook until lightly browned. Deglaze the pan with 1/4 cup of wine. Add the kale, raisins, salt, and pepper, and cook until the kale is wilted. Stir in the cooked wild rice and thyme. Season to taste.
Divide the wild rice and kale stuffing between the onion shells. (You may or may not have leftover stuffing depending on the size of the onions.) Brush the outsides of the onions with the remaining olive oil. Pour the remaining 1/4 cup of wine into the baking dish.
Roast until the onions are tender and golden, about 20 to 30 minutes. Carefully lift each onion from the baking dish and serve hot or warm, garnished with parsley.
Recipe Notes
Wild rice can be cooked, cooled, and refrigerated up to 4 days ahead.
Onions can be stuffed and refrigerated up to 1 day ahead. Bring to room temperature before roasting.
(Images: Emily Han)