I Baked 4 Famous Apple Pies and Found the One I'll Make Forever
We
independently
select these products—if you buy from one of our links, we may earn a commission. All prices were accurate at the time of publishing.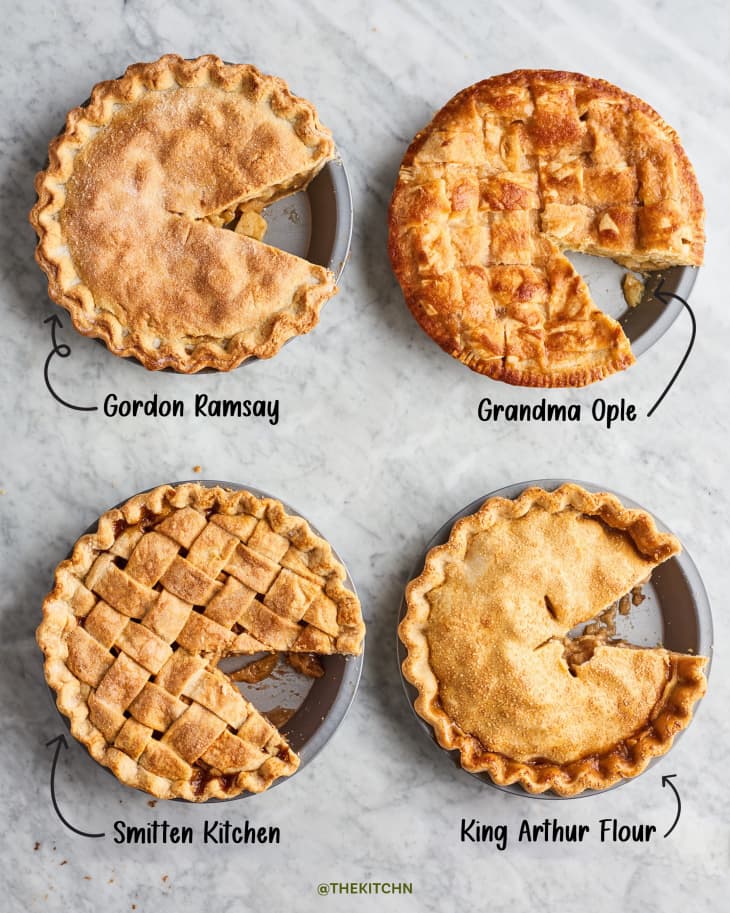 Apple pie epitomizes fall. It's the answer to every apple-picking haul, the centerpiece of holiday dessert spreads, and the best-scented way to keep your kitchen warm.
But apple pie is surprisingly difficult to make. There are many variables that can drastically change your experience of a recipe, from the kinds and quality of apples you use, to how evenly you slice them, to what kind of crust you lay on top and how you cut and crimp it. Despite plenty of testing and research by many different people — I could have spent days reading about whether butter or lard yields a crispier crust, or the pros and cons of pre-cooking the apples — there's very little agreement on what yields the best results.
That's partially because everyone has different preferences when it comes to what a great apple pie tastes like. This became especially apparent when other Kitchn staff members tasted the pies. Some people prefer the flavor of an all-butter crust, while others like the flakiness and ease of a crust made with shortening. Some like a tart pie, while others prefer a sweet pie. Some like a filling that still has some bite, while others want all the gooey-ness they can get.

So when it came time to battle off four well-loved pie recipes, declaring a winner wasn't just about my own taste buds. It was about which pie I felt would yield successful, delicious results for as many bakers as possible.
How I Chose the Apple Pie Contenders
We often choose our showdown contenders based on which recipes are the most searched-for on the Internet, which means the same few celebrities pop up time and time again: Ina Garten, Alton Brown, Martha Stewart, and the Pioneer Woman. That didn't really work, here.

As it turns out, people aren't super keen on Ina Garten's apple pie (the addition of citrus zest appears to be very polarizing). Alton Brown's pie calls for some hard-to-find ingredients (and has a lot of negative feedback). I found similarly lukewarm reviews on Martha and Ree's pies.

So I did a little extra digging.
Gordon Ramsay's pie stood out to me because it won Buzzfeed's bake-off, and featured an interesting technique for caramelizing the apples. I had remembered that Smitten Kitchen, after running a bunch of tests, had recently updated her already-beloved pie, so it felt worthy of inclusion. Commenters have raved about King Arthur Flour's pie. And I simply couldn't ignore Grandma Ople's pie on AllRecipes.com, which has more than 10,000 reviews, most of them raves, and is the first thing that comes up when searching "apple pie" on the internet.
As with all our recipe battles, I kept as many factors consistent as possible. I used the same brand of ingredients for all the pies. I baked them all in the same brand and style of pie plate, on the same day, in the same oven. I let them all cool for a full five hours before slicing (I recommend you do this, too — apple pies need a long time to firm up).
The one big factor that varied from pie to pie was the apples. I felt that in order to determine a winning recipe, I needed to stick to the instructions as closely as possible — which meant using the type of apple it called for.

Smitten Kitchen calls for mutsu, which she describes as a hybrid of Granny Smith and Golden Delicious. I originally had trouble finding mutsu so I used a mix of Granny and Golden, but was able to source mutsu for my second test. Gordon calls for "tart baking apples," so I went with Granny. King Arthur Flour recommended using multiple varieties and provided a list of their favorites. I picked three: Granny Smith, Golden Delicious, and Cortland. Grandma Ople simply called for Granny (which seemed on-brand).
Meet Our 4 Apple Pie Contenders
1. The Best Pie for Fried Apple Lovers: Gordon Ramsay's Caramelized Apple Pie
This was the only pie that instructed you to pre-cook the apples — and let me tell you, they were delicious. You chop them into cubes (not slices!), sauté them in butter and sugar until caramelized, then pile them into the crust and bake. It reminded me of Cracker Barrel's skillet fried apples — and that is the highest of compliments.

Thanks to the short ingredient list, easy assembly, and relatively short bake time, this pie was also pretty quick to make — with the exception of the crust. Instead of a traditional pie crust, this pie is made with a sweetened tart dough, which was much more difficult to work with. It also didn't brown and crisp as much as I had hoped.

My suggestion? Make the apples, skip the pie, and eat them with ice cream. If you do make the crust, flour the surface generously to keep it from sticking.

Overall rating: 7/10

Read more: Gordon Ramsay's Apple Pie Recipe Is Like Nothing You've Seen Before
2. The Best Pie If You Want a Quirky Baking Project: Apple Pie by Grandma Ople
Out of all the pies I baked, this one was in and out of the oven the fastest. That's because you do absolutely nothing to the apples (other than peel and slice them) — you just pile 'em right into a pie crust, place a lattice crust overtop, then pour a buttery syrup over the fully unbaked pie.

The result was a gooey (borderline mushy) pie with a hint of caramel-like flavor and extra-delicious crispy bits of crust. But the recipe as written could easily set you up for disaster. I was glad I read through a number of the reviews — and that I know how to make a pie. If trying something different interests you, you'll definitely have fun with this pie. Just be sure to read my tips in the link below before you start. Oh, and you'll need to pick your own pie crust recipe. We recommend this one.

Overall rating: 7.5/10

Read more: I Finally Tried "Grandma Ople's" 5-Star Apple Pie (It Has More than 10,000 Reviews)
3. The Best Pie for Firm Apple Lovers: Smitten Kitchen's Even More Perfect Apple Pie
This was the only pie that had me macerate the apples — toss them in sugar and spices and let them sit — before assembling the pie. This gave them time to soften and slump, meaning I could pack way more into my crust. I used nine full apples!

This pie came very close to taking home first place. Although time-consuming, it's easy to make, and boasts classic apple pie flavor (it's made with all the warming spices) and a golden-brown crust (I really liked the all-butter crust recipe and technique). But it turned out differently every time I made it — and the apples never quite softened as much as I hoped they would. If you like your apples in your pie to retain a bit of texture (which many people do!), this is the pie for you.

Overall rating: 8.5/10

Read more: My Honest Review of Smitten Kitchen's "Even More Perfect" Apple Pie
4. The Best Apple Pie: King Arthur Flour's Apple Pie
To me, this is the quintessential apple pie. The crust, made with a combination of butter and vegetable shortening, is easy to work with and bakes up flaky and crisp. The filling was the most flavorful of them all, thanks to a secret ingredient: boiled cider! (Although you can substitute apple juice concentrate, which is easier to find).

The filling was soft but not too mushy, and every bite that contained flaky crust, gooey filling, and vanilla ice cream was simply out of this world. This is the pie I would recommend to most bakers.

Overall rating: 9.5/10

Read more: King Arthur Flour's Secret for the Best-Ever Apple Pie