Pumpkin Poke Cake Is Such a No-Fuss Potluck Contribution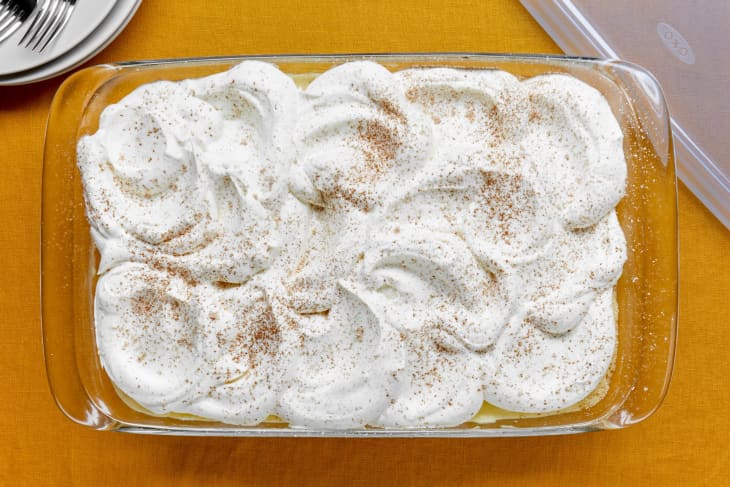 Poke cake is exactly what it sounds like: a cake poked full of holes! But why add this seemingly silly step to an already delicious cake? Because it's going to soak up a delicious topping! Here, a warmly spiced pumpkin cake gets vanilla pudding poured all over it, and the pudding sinks right into the holes to the center of the cake so that every single bite is extra tasty. Made and served in the same baking dish, it's the perfect potluck cake for when you need something easy that you can make for any fall gathering.
Easier Recipes Make for Easier Holidays
Since there's usually extra cooking going on around the holidays, make sure you pick recipes that are easy to pull off, and stock the kitchen with the right long-lasting tools so that you can cook efficiently. Bake the cake (or any future casseroles) in this sturdy OXO Glass 3-Quart Baking Dish, which has plenty of room and comes with a lid so that you can just snap it on for fridge storage or if you're taking it with you to be served elsewhere.
Although this cake has three parts, you don't need any heavy fancy baking equipment. This 9″ Whisk will be your best friend here: It's strong and sturdy enough to tackle whisking together cake batter, preventing lumps from forming in the pudding, and beating cream into billowy whipped cream. The whisk has a soft handle that won't slip out of your grip, even if you have wet hands.
How to Make a Really Good Poke Cake
To make sure the pudding has a chance to really sink and set in the cake, it needs to be poured onto the cake warm, and then the whole cake needs to cool to room temperature before you chill it. Placing the cake on this Non-Stick Cooling and Baking Rack lets the air circulate all the way around the baking dish to speed up the cooling process. It's also a great rack to have around holiday cookie season when you have cookie tins to fill, plus it fits in standard baking sheets if you need a roasting rack.
When you're ready to eat the cake, top it with the whipped cream and don't forget the crowning touch: freshly grated nutmeg (and cinnamon if you have some sticks lying around) adds a pop of sweet spice and makes the whole cake even prettier. Use the OXO Etched Zester to finely grate it onto the top of the cake — it has non-slip feet to keep things steady, and you can also use it for things like hard cheeses, citrus zest, and even chocolate.
Whether you're hosting a Friendsgiving or bringing a dessert to a potluck, this pumpkin poke cake is a no-stress way to bring a crowd-pleasing treat that both young and old will love. In fact, recruit a kid to help with the poking part; it's so much fun to do!
Prep time 30 minutes
Cook time 45 minutes
Serves12
Nutritional Info
Ingredients
For the cake:
Cooking spray

2

cups

all-purpose flour

1 1/2

cups

granulated sugar

1 1/2

teaspoons

baking powder

1

tablespoon

pumpkin pie spice

3/4

teaspoon

kosher salt

1/2

teaspoon

baking soda

4

large eggs

1

(15-ounce) can

pumpkin purée (about 2 cups)

3/4

cup

vegetable or canola oil

1

teaspoon

vanilla extract
For the pudding:
1/2

cup

granulated sugar

1/4

cup

cornstarch

1/2

teaspoon

kosher salt

2

large eggs

1

large egg yolk

2

cups

whole milk

1/2

cup

heavy cream

1

teaspoon

vanilla extract
For the toppings:
2

cups

cold heavy cream

3/4

cup

granulated sugar

1

teaspoon

vanilla extract

Ground cinnamon or cinnamon sticks

Freshly grated nutmeg
Instructions
Make the cake:
Arrange a rack in the middle of the oven and heat the oven to 350ºF. Coat a 3-quart or 9x13-inch baking dish with cooking spray; set aside.

Whisk 2 cups all-purpose flour, 1 1/2 cups granulated sugar, 1 1/2 teaspoons baking powder, 1 tablespoon pumpkin pie spice, 3/4 teaspoon kosher salt, and 1/2 teaspoon baking soda together in a large bowl. Add 4 eggs, 1 can pumpkin purée (2 cups), 3/4 cup vegetable oil, and 1 teaspoon vanilla extract and stir with a spatula until smooth (some lumps are ok), about 2 minutes. (Alternatively, use an electric hand mixer on medium speed and mix until smooth, about 1 minute.) Pour the cake into the prepared baking dish.

Bake until the top of the cake springs back when pressed lightly and a toothpick comes out with just a few moist crumbs, 25 to 30 minutes. Place the cake on a wire rack and let cool for 30 minutes. Meanwhile, make the pudding.
Make the pudding:
Place 1/2 cup granulated sugar, 1/4 cup cornstarch, and 1/2 teaspoon kosher salt together in a medium saucepan and whisk to remove any lumps. Add 2 eggs and 1 egg yolk and whisk until smooth. Stir in 2 cups whole milk and 1/2 cup heavy cream. Cook over medium heat, stirring frequently, until it begins to thicken and bubble at the edges, about 8 minutes. Remove the saucepan from the heat and stir in 1 teaspoon vanilla extract.

Use a skewer or fork to poke holes all over the top of the still-warm cake (still in the pan), poking about halfway into the cake. Pour the warm pudding over the cake and spread into an even layer. Not all of the pudding will absorb right away, but will soak in as the cake cools. Let cool to room temperature. Cover and refrigerate at least 4 hours or overnight.
Make the topping:
Just before serving, place 2 cups cold heavy cream, 3/4 cup granulated sugar, and 1 teaspoon vanilla extract in a large bowl. Beat with an electric mixer on medium-high speed (or whisk by hand) until soft peaks form. Spread the topping over the cake. Dust with ground cinnamon and freshly grated nutmeg.
Recipe Notes
Storage: Refrigerate in an airtight container for up to 3 days.