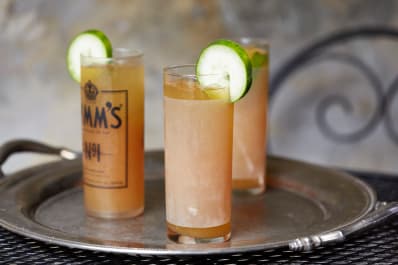 (Image credit: Tara Donne)
If you've ever been to New Orleans in the summer, you know that when the air is thick as molasses and you can't move without starting to sweat something fierce, there's only one thing to do: Find a bar to prop up at and order something tall and cold.
If you are lucky, you will find yourself in the vicinity of the Napoleon House, a French Quarter institution that is known for its traditional Pimm's Cup. Now, if Pimm's Cup makes you think of Wimbledon and jubilees (and possibly Mary Berry), you are not wrong. But Napoleon House has become the home away from home for this classic and deliciously simple British cocktail.
(Image credit: Tara Donne)
A Brief History of the Pimm's Cup at Napoleon House
Much of the history of Napoleon House and the Pimm's Cup is word-of-month, but here's what we do know.
The building's first resident was New Orleans major Nicholas Girod. He offered the home to Napoleon Bonaparte as a place of refuge and, while the emperor never took him up on it, the moniker "Napoleon House" stuck.
In 1914, a Sicilian immigrant named Joe Impastato purchased the Napoleon House with the idea that he would turn it into an Italian grocery store (with cocktails, naturally). It was a blue-collar saloon that served the neighborhood's merchants and longshoremen.
"Uncle Joe" was apparently fond of low-alcohol drinks, which were popular in Europe but not so much in America, and he was especially enamored of the Pimm's Cup. "He wanted a drink that was light and refreshing," explains Chris Montero, the GM and executive chef at Napoleon House, "so he introduced it at his little bar. We don't know the exact year, but by the '30s it was established; it just grew and grew."
Napoleon House is now the number-one seller of Pimm's Cups in America and a close second to the original London pub where the drink was born. There are a few different versions of the Pimm's Cup on offer at the Napoleon House, but the most popular is the one that's closest to the original. The correct Pimm's Cup calls for Pimm's, lemon juice, and ginger ale, garnished with cucumber; Joe's version substitutes 7UP for ginger ale.
(Image credit: Tara Donne)
What to Order to Go with Your Pimm's Cup
The other thing that Napoleon House is known for is the muffaletta. "We don't know when the muffaletta came in," says Montero, "but we do know that Uncle Joe loved that sandwich." And, we would argue, the Napoleon House version — which is served hot and with pastrami instead of mortadella — is even better than the original from Central Grocery.
Pimm's Cup
Serves 1
Ice
1 1/4 ounces Pimm's #1
3 ounces lemonade
7UP or lemon-lime soda, preferably cold
Cucumber slice
Fill a tall 12-ounce glass with ice. Add the Pimm's and lemonade. Top off with 7UP, and garnish with cucumber.
Kitchn supports our readers with carefully chosen product recommendations to improve life at home. You support us through our independently chosen links, many of which earn us a commission.