Recipe: Perfect Roasted Baby Carrots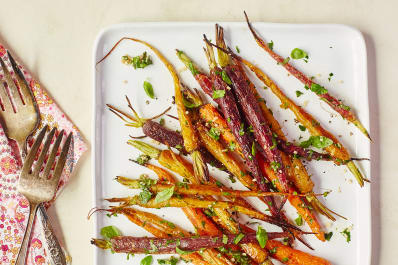 (Image credit: Lauren Volo)
Young baby carrots are the sweetest little guys around, in both appearance and flavor. This breezy side dish makes the most of the roots, roasting them to bring out their natural sugars and dressing them in nothing but a happy mix of fresh herbs and minced garlic.
(Image credit: Lauren Volo)
True baby carrots (not these guys) get pulled out of the ground in spring while their siblings continue to grow extra big and strong in the ground to be harvested later in the year. Thin-skinned and sweet, these carrots don't need much to make them a winner at the dinner table. Look for baby carrots at farmers markets and the produce section at your grocery store.
A Simple Dish to Be Served at Any Temperature
Beyond the ease of preparation, what makes this side dish special is that it's great served at any temperature. Enjoy it hot alongside roasted chicken and it will be a comforting choice that rounds out the meal. Let it cool down to room temperature and suddenly it's a picnic-friendly choice for that first warm day of spring.
Try these roasted carrots with our brown butter vinaigrette. It will definitely take your spring veggies from refreshing to luxurious.
Learn how to cut carrots: 4 Basic Carrot Cuts
After a long and blustery winter, the first signs of spring produce can feel like an oasis at the grocery store and farmers market. This week we're sharing the produce-packed recipes you'll need to celebrate the debut of asparagus, radishes, and tender young carrots.
Herb-Roasted Baby Carrots
Serves 4 to 6 as a side dish
2 1/2

tablespoons

olive oil, divided

1 1/2

tablespoons

freshly squeezed lemon juice

1

tablespoon

finely chopped fresh basil leaves

1

tablespoon

finely chopped fresh parsley leaves

2

small cloves

garlic, minced

Kosher salt

Freshly ground black pepper

2

pounds

baby carrots, leafy tops removed, scrubbed clean
Arrange a rack in the middle of the oven and heat to 425°F.
Whisk together 1 1/2 tablespoons of the oil, lemon juice, basil, parsley, and garlic in a large bowl and season with salt and pepper.
Spread the carrots out in a single layer on a rimmed baking sheet. Drizzle with the remaining 1 tablespoon of oil, season with salt and pepper, and toss to evenly coat.
Roast, turning the carrots occasionally, until tender and lightly caramelized, 25 to 30 minutes.
Transfer the carrots to the bowl of dressing and toss to combine. Let sit 20 minutes, stirring occasionally, to cool and let the flavors combine. Serve warm, at room temperature, or cold.
Recipe Notes
Storage: Leftovers can be stored in an airtight container in the refrigerator for up to 5 days.
More posts in 5 Recipes to Make Your Spring Green Dreams Come True