Better Recipe Organization: 5 Methods, 10 Products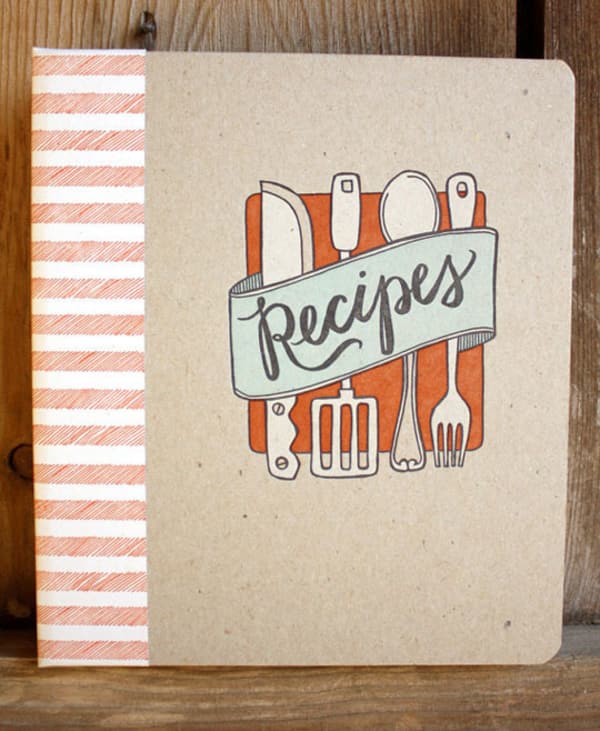 With all the hustle and bustle in the kitchen this Thanksgiving, I quickly realized the insufficiency of my recipe organization. Cards and clippings were floating everywhere, getting sprinkled with water and gravy, and disappearing in the chaos. So before Christmas arrives, I've decided to devote some time to reorganizing my recipes in the hopes of making my life easier and facilitating better use.
Here are some options I've looked into:
• For those who still clip recipes from magazines, a recipe binder may be optimal. Using page protectors and photo protectors keeps clippings safe from any potential ingredient spills, and it also makes the rearrangement of recipes a snap (quite literally!). If you want something a step up from the average office-supply-store contraption, I like the idea of oilcloth binders. They're colorful, cheerful, and ideal for fending off any messy kitchen mishaps.
• For those keen on transcribing their recipes from the internet or cookbooks, there are a few options. The first is to use a bound recipe book for all of your notes. This method puts all your recipes in one compact, easily locatable place, but to my mind, it poses several logistical issues: recipes transcribed in a book are more difficult to reorganize, and while cooking, a book weight or cookbook holder is often necessary to prevent the pages from turning.
• For this problem, a spiral notebook is one potential answer. It can be laid flat on the counter, making it easy to manage while cooking and saving valuable counter space.
• Another, more traditional, option is the recipe card box. It's a time-tested method, perfect for the simple addition and pruning of recipes. Check Etsy for some lovely recipe card options, including some printable ones that would be optimal if you're looking to create a sizable collection.
• And if you've gone wholly tech with your recipe collection, perusing blogs more often than magazines and cookbooks, there are some excellent recipe organization programs and apps out there. Personally, I've opted for MacGourmet, which offers a number of customizable fields, tagged searching, and a great "chef view" mode that enlarges the recipe, making it easy to view while cooking. Another option is Evernote, which I tend to associate with my home decor inspiration, but which is just as easily applied to recipe organization and offers quick transfer from source page to program.
Some of these methods are more labor intensive than others, and obviously, different systems work for different people. How do you keep your recipes in order? And do you find one method better than another?
- Post contributed by Carolyn Purnell of Apartment Therapy
Products pictured above:
Top Row:
1) Letterpress Recipe Card Binder Kind by 1canoe2
2) Martha Stewart
3) Blank Recipe Book by BethBee
4) Oilcloth Mini Binders by rbtbags
5) Custom Recipe Book by bakadesign
Bottom Row:
1) Recipe Flip Book by terrainvague
2) Gold Label Recipe Box by Sugar Paper
3) Letterpress Recipe Cards and Box by 1canoe2
4) Personalized Recipe Cards by InvitaPaperStudio
5) Kraft Recipe Cards by OhHelloMagpie
Kitchn supports our readers with carefully chosen product recommendations to improve life at home. You support us through our independently chosen links, many of which earn us a commission.