Recipe: Lemon-Pepper Asparagus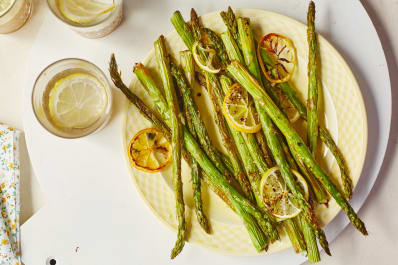 (Image credit: Lauren Volo)
This simple side dish is just as much about the tender roasted asparagus as it is about the burnished lemon slices that are tossed in the mix. The thin rounds caramelize as they roast alongside the asparagus, retaining their signature sourness as they grow sweeter in the heat of the oven. Add plenty of freshly ground black pepper to the mix and what you've got is an easy side dish that you'll want to make all spring long.
A Quick & Easy Way to Fancy Up Roasted Asparagus
When asparagus comes into season, we'll take it every which way, but roasting the vegetable is arguably the best way to enjoy it. The stalks retain most of their crispness while the insides grow mellow and creamy.
Roasting them with nothing but olive oil, salt, and black pepper is nice, but turning the dial up on the pepper and adding both thinly sliced lemons and lemon juice to the mix is even nicer. It bumps up the intrigue significantly, without bumping up the effort.
Learn more: The Best Way to Store Asparagus
(Image credit: Lauren Volo)
After a long and blustery winter, the first signs of spring produce can feel like an oasis at the grocery store and farmers market. This week we're sharing the produce-packed recipes you'll need to celebrate the debut of asparagus, radishes, and tender young carrots.
Lemon-Pepper Asparagus
1

pound

asparagus

1

small lemon, thinly sliced

Juice of 1 small lemon

1

tablespoon

olive oil, plus more for drizzling

1/2

teaspoon

kosher salt

1/2

teaspoon

freshly ground black pepper, plus more for finishing
Arrange a rack in the middle of the oven and heat to 400°F.
Snap off the woody ends of the asparagus and discard. Spread the asparagus and lemon slices in a single layer on a rimmed baking sheet. Drizzle with the oil and toss to evenly coat. Sprinkle with the salt and pepper.
Roast until the asparagus is tender but still crisp, and the lemon slices have lightly caramelized, about 15 minutes. Remove from the oven and drizzle the lemon juice evenly over the vegetables. Drizzle with a little more olive oil and a few extra grinds of black pepper, and serve.
Recipe Notes
Storage: Leftovers can be stored in an airtight container in the refrigerator for up to 5 days.