Recipe for Two: Taco Salad with Creamy Cilantro Dressing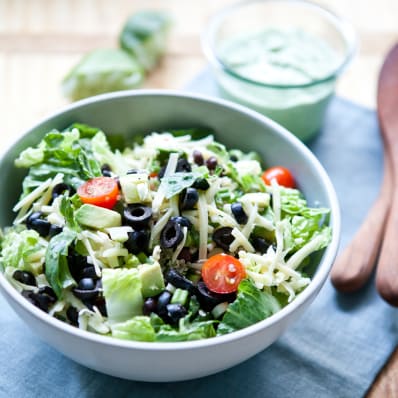 Living alone or as a couple can prove to be a challenge come dinnertime. When a recipe serves six, but there are only two of you, it can be a bore to eat the same thing several days in a row. This is why I wanted to write a recipe today that was the perfect size: a hearty dinner salad just for two.
Taco salad reminds me of two things: my mom and my college days in Boulder, Colorado. My mom made a mean taco salad with spicy ground beef, lots of tortilla chips, cheese, and an interesting dressing that I think might've just been a mixture of sour cream and salsa. When I left for college, I continued the tradition, but made mine healthier and vegetarian, reflecting my interests and inclinations at the time. I think at some point there might have even been tempeh (boy, was tempeh ever in high rotation in my apartment in those days).
This recipe today is almost a grown-up version of my college taco salad. It has many of the same components, but here I've added some quinoa for extra protein and whipped up a super-creamy cilantro dressing that's spiked with fresh lime juice and a little salt. It'd be dreamy used as a dip for fresh veggies (and I can vouch for it as a dip with leftover tortilla chips, too). It's good stuff.
If you happen to like leftovers or have a family of four, simply double this recipe. If you're planning for leftovers, wait to dress the remaining salad with dressing until you're ready to eat.
I think this is the perfect salad for this time of year: substantial enough to be lunch or dinner on its own if you'd like, but simple enough that you're not spending more than 30 minutes in the kitchen (and never turning on the stove). Win-win!
Recipe for Two: Taco Salad with Creamy Cilantro Dressing
For the dressing (makes about 3/4 cup):

1

cup

loosely packed cilantro, washed, stems removed, and roughly chopped (about 3/4 bunch)

1/2

cup

sour cream

2

tablespoons

fresh lime juice (about 1/2 lime)

1

clove

garlic

1/2

cup

olive oil

2

teaspoons

sherry vinegar

1/2

teaspoon

kosher salt

A few grinds of freshly ground black pepper

Water, to thin
For the salad:

2 1/4

cups

shredded romaine lettuce

1/3

cup

cherry tomatoes, sliced in half

1/2

cup

cooked and cooled quinoa, optional

1/2

cup

black, kidney, or pinto beans, rinsed and drained

1/4

cup

shredded cheddar or pepper Jack cheese

1/2

large avocado, diced

3

tablespoons

sliced black olives

3

tablespoons

finely chopped green onions (from about 2 onions), light green and white parts only

1/2

cup

crumbled tortilla chips
To make the dressing, purée all ingredients in a blender or food processor until well-combined and smooth. If the dressing seems thick, drizzle in water a tablespoon or two at a time with the blender running until thinned to the point where you like it. Taste and add additional salt and pepper if necessary.
To assemble salad, combine all the salad ingredients in a large bowl. Pour desired amount of dressing over the salad and toss well. Serve immediately.
Recipe Notes
The dressing recipe will yield about 3/4 cup, more than you'll need to dress the salad. Refrigerate in an airtight container to use for future salads (or it's great slathered on burgers or spooned onto omelettes).
This post was requested by sistervashti and Juliejulezzzzz for Reader Request Week 2013.
(Images: Megan Gordon)