Recipe: Easy Roasted Summer Vegetables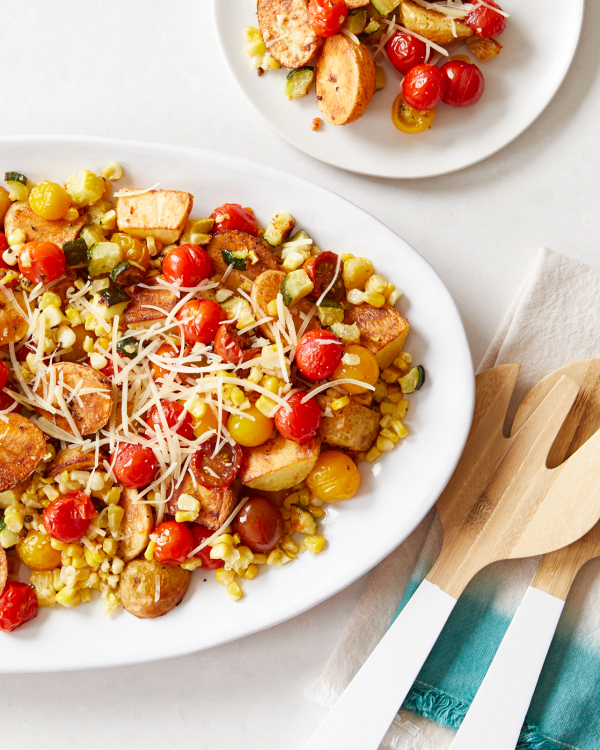 (Image credit: Ryan Dausch | Kitchn)
The grill gets all the hype when it comes to summer cooking, but that doesn't mean you should ignore your oven! It can be an invaluable tool for getting simple dishes like this roasted veggie side on the table all summer long.
Start by mixing up an easy, breezy garlicky Parmesan dressing. Then toss some buttery baby Yukon Gold potatoes and tender squash and zucchini in the dressing before letting them caramelize in the oven. Finish with juicy cherry tomatoes and sweet corn freshly cut from the cob for what may be summer's most effortless side.
(Image credit: Ryan Dausch | Kitchn)
Choosing the Best Ingredients
Whether these simple dishes really pop or not comes down to the ingredients you choose: Produce that's grown locally and bought in season yields big flavor. Walmart's produce aisle is filled with a summery smorgasbord of fresh, local fruits and veggies, and stores restock their selections at least once a day. Just pick what looks best that day and you'll know dinner will taste great.
(Image credit: Ryan Dausch | Kitchn)
Staggering the Roast Times
When you're ready to roast your veggies, the key is to stagger their times. Start with the potatoes, zucchini, and summer squash, giving the potatoes time to soften and brown while the squash absorbs the garlicky Parmesan dressing. The cherry tomatoes and corn kernels need mere minutes in the heat, so toss them with the hot squash and potatoes and roast just until the tomatoes burst.
Serving This Dish
A fried egg on top makes the rainbow-hued vegetables breakfast-ready, or serve them over brown rice for a hearty, healthy lunch. Plate them simply along chicken or fish and you have a delightfully simple, impossibly easy summertime supper.
(Image credit: Ryan Dausch | Kitchn)
Easy Roasted Summer Vegetables
For the dressing:

1/4

cup

olive oil

1/4

cup

finely grated Parmesan cheese, plus more for serving

3

cloves garlic, minced

1

tablespoon

freshly squeezed lemon juice

1/2

teaspoon

kosher salt

1/4

teaspoon

freshly ground black pepper
For the vegetables:

1

pound

baby Yukon Gold potatoes, halved

1

medium zucchini (about 8 ounces), diced

1

small yellow summer squash (about 5 ounces), diced

1 1/2

cups

cherry tomatoes (about 8 ounces), halved if large

1

cup

fresh corn kernels (from 1 to 2 ears)
Arrange a rack in the middle of the oven and heat to 425ºF.
Make the dressing: Place all the ingredients in a large bowl and stir to combine.
Roast the vegetables: Add the potatoes, zucchini, and yellow squash to the dressing and toss to combine. Transfer a large rimmed baking sheet and arrange in a single layer, arranging the potatoes cut-side down. Roast until the potatoes are golden brown, 18 to 20 minutes.
Add the tomatoes and corn to the hot baking sheet, toss to combine with the other vegetables, and spread back in an even layer. Return to the oven and roast until the tomatoes begin to burst, 5 to 7 minutes.
Transfer the roasted vegetables to a serving platter, then sprinkle with additional Parmesan cheese. Serve immediately.
Recipe Notes
Storage: Refrigerate leftovers in an airtight container for up to 4 days.
Walmart is committed to supporting communities through locally grown produce — stop by and see!
This post was created by the Kitchn Creative Studio and is sponsored by Walmart.
Thank you for supporting the brands that make Kitchn possible.