Recipe: Crispy Prosciutto-Wrapped Drumsticks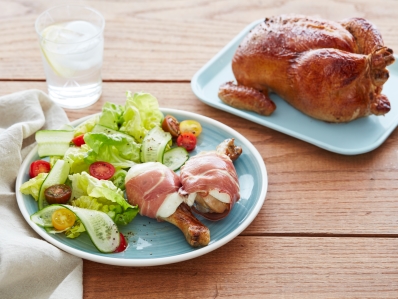 (Image credit: Ghazalle Badiozamani)
I have long been a fan of roasted chickens, both for their flavor and convenience. What I've only recently discovered, though, is how with a little planning, ready-to-eat chicken can serve as a base for several weeknight meals that are each a unique dinner. So, I've upgraded from my default serving of plain chicken with a simple green salad to buying two prepared birds and using each part in an easy yet interesting way, really taking advantage of the work already done for me. By applying this strategy, I'm able to get four meals out of just two roasted chickens. Up first are these crispy prosciutto-wrapped drumsticks, which are as speedy as they are sublime.
(Image credit: Ghazalle Badiozamani)
This meal is as easy as carving off the drumsticks from two Kroger roasted chickens, topping each with fresh mozzarella, and wrapping them in thinly sliced prosciutto. Pop them under the broiler, and five minutes later the cheese is melted and the prosciutto is melt-in-your-mouth crispy. It's at once salty, creamy, and succulent. I may still pair it with a side salad, but it has more than a leg up on my old fallback. But the best part? I have another completely new meal almost ready for tomorrow.
Below the drumsticks recipe are ideas for how to use the rest of your Kroger roasted chicken in a variety of different recipes. Whether it's for a hearty salad, a rich party dip or a classic chicken salad, the hard work is already done — for both tonight and tomorrow.
Crispy Prosciutto-Wrapped Drumsticks
Serves 2
4 cooked chicken drumsticks (from 2 Kroger roasted chickens)
4 (1/4-inch) thick slices fresh mozzarella cheese
4 thin slices prosciutto
Side salad, for serving
Arrange an oven rack 6 inches below the broiler and heat the broiler. Line a baking sheet with aluminum foil.
Top each drumstick with 1 slice of fresh mozzarella, then wrap each with a slice of prosciutto. Place on the prepared baking sheet with the mozzarella side facing up. Broil until the prosciutto is crispy and the cheese is melted, about 5 minutes. Serve immediately with a side salad.
---
Now here's how to use the rest of your roasted chicken...
This post is sponsored by Kroger and was created by the Kitchn Creative Studio.
Thank you for supporting the brands that make Kitchn possible.