Recipe: Creamy Stuffed French Toast
When I was in third grade, I entered a bake off hosted by our local library. The day of the competition, my mom helped me gather the ingredients from our fridge and pantry to make the gingersnap cookie recipe I had chosen, at which point we discovered we were out of vanilla extract. My ever resourceful mother pulled a bottle of orange extract from the back of the cupboard and suggested we have a little fun with the recipe. The results were delicious, and the spicy ginger cookies rocked an added layer of intrigue in the form of orange extract's fresh citrus flavor.
That was my first experience using extracts to easily change up the flavor of a recipe, and it was far from my last. Mostly recently, I used four different McCormick extracts — coconut, maple, orange, and rum — to turn one amazing creamy stuffed French toast recipe into four.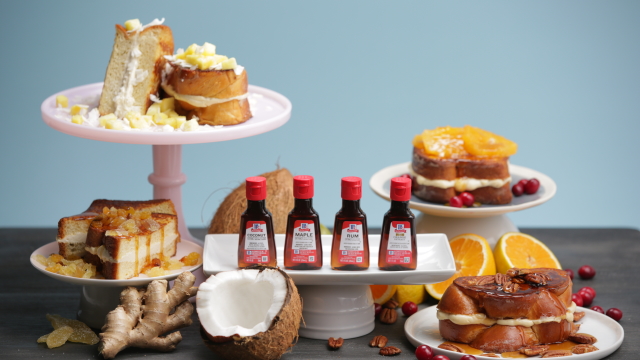 Even in its original plain iteration, this creamy stuffed French toast tastes special. The lightly sweetened whipped cream cheese filling gives the breakfast favorite a flair of weekend decadence. Employing my long-standing, simple trick of adding flavor extracts, it's also versatile. McCormick Maple Extract adds depth, McCormick Orange Extract gives it a sunny spin, and McCormick Coconut Extract or Rum Extract makes it a tropical morning.
No matter the flavor, I can rest easy knowing McCormick extracts are made with real ingredients. They're also non-GMO, gluten-free, and have no corn syrup, ensuring the best possible flavor and end result.
Oh, and in case you were wondering, I came in first in that third grade bake off. Now any time I use a flavor extract to add an exciting twist to a recipe, I feel like I'm winning.
Creamy Stuffed French Toast
Serves 4
FILLING:
1 (8-ounce) package whipped cream cheese
1 tablespoon brown sugar

FRENCH TOAST:
1 loaf challah or brioche bread
5 eggs
1 cup milk
1 teaspoon McCormick Ground Cinnamon
1 teaspoon McCormick Vanilla Extract
2 tablespoons butter, divided

INSTRUCTIONS:
For filling: Mix all ingredients in small bowl. Set aside.

For French toast: Cut ends off loaf. Cut remaining bread into 8 slices. Spread 2 tablespoon prepared cream cheese on 4 slices. Press other 4 slices on top to sandwich.
Beat eggs with wire whisk in 13x9 baking dish. Stir in milk, cinnamon, and vanilla until well blended. Dip sandwiches in egg mixture, soaking for 2 minutes on each side.

Melt 1 tablespoon butter in large non stick skillet or griddle on medium-low heat. Place 4 of the sandwiches in skillet. Cook 4 to 5 minutes per side or until golden brown. Repeat with remaining sandwiches, melting remaining tablespoon butter in skillet.

VARIATIONS:

Coconut Stuffed French Toast:
Use 1 teaspoon McCormick Coconut Extract in filling
(Suggested toppings: maple syrup, toasted coconut)

Maple Stuffed French Toast:
Use 2 teaspoons McCormick Maple Extract in filling
(Suggested toppings: maple syrup, walnuts, pecans)

Orange Stuffed French Toast:
Use 1 teaspoon McCormick Orange Extract in filling.
(Suggested toppings: maple syrup, orange zest)

Rum Stuffed French Toast:
Use 1 teaspoon McCormick Rum Extract in filling.
(Suggested toppings: maple syrup, raisins)
This post is sponsored by McCormick.
Thank you for supporting the brands that make Kitchn possible.