Recipe: Chickpea Cheddar Grilled Cheese
To celebrate National Grilled Cheese Day — it's April 12! — we've been thinking about what makes it such a great food for gatherings. For Kelyn, a food stylist from Texas now living in NYC, it's the meal that brings up the warm fuzzies of childhood but can easily be dressed up for grownup palates.
Kelyn brought three friends over, her family away from home — Kristina, Stacy, and Gerardo — and made them a Chickpea Cheddar Grilled Cheese. She reached for Arla® Sliced Cheddar Cheese because it has no synthetic hormones,* artificial flavors, or preservatives. Layered with baby spinach and an easy homemade chickpea spread, it turns into a hearty meal.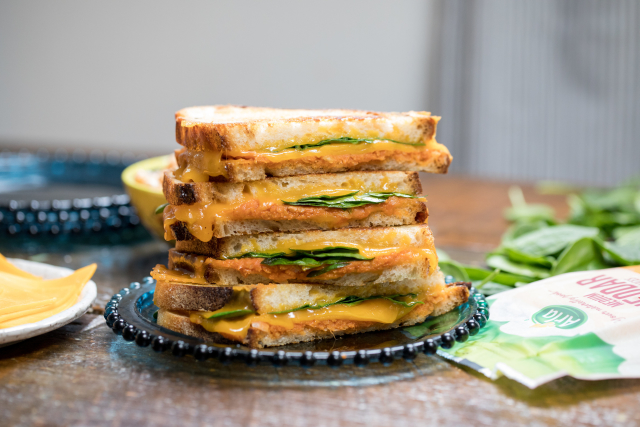 (Image credit: Ana Gambuto)
For Kelyn, grilled cheese has always been a group occasion:
"When my parents had a busy work week or were heading out of town, my grandparents' house was our home away from home. Soon after my parents dropped off my brothers and me, no matter what time of the day, or whether we were hungry or not, I would soon hear the sizzling of buttered bread hitting a hot pan. The aroma of melted cheese quickly filled the kitchen and wandered into other rooms within the house. Like clockwork, my brothers and I would make our way to the kitchen with stomachs suddenly empty and mouths watering. I can smell it now."
(Image credit: Ana Gambuto)
Why did Kelyn choose to share her her Chickpea Cheddar Grilled Cheese with Kristina, Stacy, and Gerardo?
"These three friends have become family here in New York City. I share most of my meals with them on a weekly basis, so it only made sense to include them in this meal."
(Image credit: Ana Gambuto)
Chickpea Cheddar Grilled Cheese
2

tablespoons

extra virgin olive oil, divided use

2

tablespoons

tomato paste

1/2

cup

canned chickpeas, drained and rinsed

4

slices

sourdough bread

1/2

cup

loosely packed fresh baby spinach

4

slices

Arla® Cheddar Sliced Cheese
Heat 1 tablespoon of the oil in a small saucepan over medium heat until shimmering. Add the tomato paste and cook, stirring often, for 2 minutes. Stir in the chickpeas and cook 2 minutes more. Remove from heat and mash with the back of a large serving fork or potato masher to the consistency of lumpy mashed potatoes.
Place 2 slices of the bread on a work surface. Divide the chickpea spread between the bread and spread into an even layer. Top with the spinach, the finish each sandwich with 2 slices of Arla Cheddar Sliced Cheese. Close the sandwiches with the remaining 2 slices of bread.
Heat the remaining 1 tablespoon oil in a large skillet over medium heat until shimmering. Add the assembled sandwiches and cover. Cook until the bottoms are golden brown, 3 to 4 minutes. Flip the sandwiches, cover again, and cook until the second side is golden brown, 3 to 4 minutes more. Cut in half if desired.
*No significant difference has been shown between milk derived from rBST treated and non-rBST treated cows.
This post is sponsored by Arla and was created by the Kitchn Creative Studio.
Thank you for supporting the brands that make Kitchn possible.