Recipe: Cheezy, Loaded Sweet Potato Skins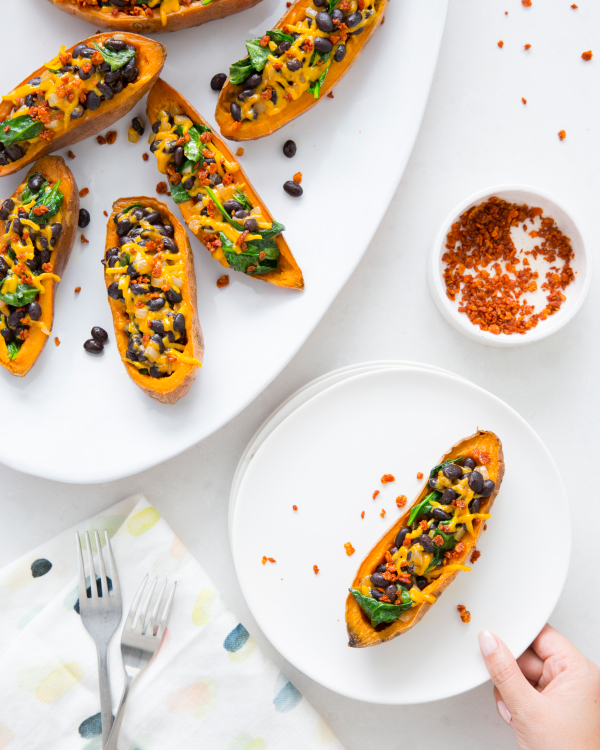 After a summer of salads, it's easy to fall into a rotation of meat- and dairy-heavy dinners. With all the fall football parties and holiday gatherings, we're likely indulging more frequently than usual. And while our choices may feel good in the moment, a parade of rich dishes doesn't always leave us feeling our best.
But comfort food doesn't have to make us feel uncomfortable. Whether we're going dairy-free, gluten-free, or just looking to incorporate more plant-based foods into our diets, we know we can have the flavors we want while still giving our bodies what they need. Dairy-free Daiya Cutting Board Shreds are an easy swap we can make in so many of our favorite dishes.
---
Cheezy, Loaded Sweet Potato Skins: Watch the Video
---
Case in point: These "cheezy" loaded sweet potato skins are an updated take on a classic finger food. They start with nutrient-packed sweet potatoes, which are roasted to bring out their natural sweetness and crisp up the skins. Those get stuffed with an aromatic blend of onions and spices mashed together with fiber-packed black beans and spinach. And dairy-free Daiya Cheddar Cutting Board Shreds bring in that melty goodness that defines a good potato skin. Sprinkle some vegan bacon crumbles over the top, and you've got a lighter take on a classic (that, yep, happens to be vegan) everyone will enjoy.
(Image credit: Creative Studio)
This recipe proves that comfort food doesn't have to be at odds with our health goals. Whether we're feeding our family or tailgating with friends, let's take the time to treat ourselves this fall.
Cheezy, Loaded Sweet Potato Skins
Serves 4 (2 potato skins per person)
4

medium sweet potatoes (about 8 ounces each)

2

tablespoons

olive oil, divided, plus more for brushing the potato skins

2

teaspoons

kosher salt, divided

1

small yellow onion, diced

1/2

teaspoon

smoked paprika

1

(15-ounce) can black beans, drained and rinsed

5

ounces

baby spinach (about 5 packed cups)

1/2

cup

Daiya Cheddar Cutting Board Shreds (2 ounces), plus more for sprinkling if desired

1

tablespoon

vegan bacon crumbles
Arrange a rack in the middle of the oven and heat to 375ºF.
Cut the sweet potatoes in half lengthwise. Transfer to a rimmed baking sheet, drizzle with 1 tablespoon of the olive oil, sprinkle with 1 teaspoon of the salt, and rub to coat. Arrange the potatoes cut-side down. Bake until knife-tender, 30 to 40 minutes. Set aside until cool enough to handle, about 5 minutes.
Scoop out the insides of sweet potato, leaving 1/4-inch of the flesh to stabilize the potato skin. Reserve the scooped sweet potato flesh for another use. Brush the sweet potato skins a thin layer of olive oil and arrange cut-side up on the baking sheet. Bake until the skin crisps slightly, 8 to 10 minutes. Meanwhile, cook the filling.
Heat the remaining 1 tablespoon olive oil in a large skillet over medium-high heat until shimmering. Add the onion, remaining 1 teaspoon salt, and smoked paprika, and cook until the onion is soft, 6 to 8 minutes. Stir in the black beans, smashing them slightly as they cook, until warmed through, 1 to 2 minutes. Add the spinach and toss until just wilted, about 2 minutes. Remove from the heat and stir in the Daiya Cheddar Cutting Board Shreds.
Evenly divide the filling among the sweet potato skins, about 1/3 cup filling per skin. Sprinkle with more Daiya Cheddar Cutting Board Shreds, if desired.
Bake until the filling is hot and the cheese melts, 5 to 8 minutes. Sprinkle the potato skins with the vegan bacon crumbles and serve hot.
Recipe Notes
Storage: Refrigerate leftovers in an airtight container for up to 4 days.
Find out where to buy Daiya Cutting Board Shreds and other dairy-free Daiya products!
This post was created by the Kitchn Creative Studio and is sponsored by Daiya.
Thank you for supporting the brands that make Kitchn possible.