Recipe: Brown Butter Radishes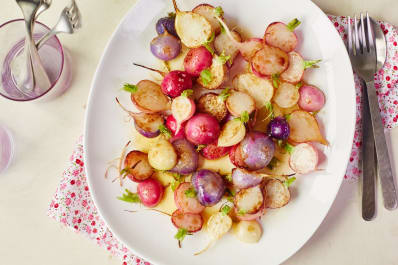 (Image credit: Lauren Volo)
Bathed in warm brown butter, hit with a healthy squeeze of lemon juice, and finished with a loving sprinkle of flaky sea salt, this radish recipe is such a stunner of a side dish that it may cause you to plan an entire dinner party around it.
(Image credit: Lauren Volo)
The 1-Ingredient Sauce That Makes Radishes Better
Brown butter is a sauce that can do no wrong. Whether it's tossed with pasta, poured over a baked potato, or drizzled on popcorn, it provides an instant upgrade to just about anything. Here the nutty, rich sauce is used to transform a platter of roasted radishes into something truly show-stopping. Roasting the radishes helps preserve their vibrant color and crunch while just ever-so-slightly mellowing their naturally spicy bite. Then, while still warm, they're tossed in the warm brown butter, soaking up all of its savory, toasty flavor. A big squeeze of lemon juice and a good sprinkle of flaky sea salt provide just enough contrast to keep the butter-drenched veggies in balance and elevate them to star side-dish status.
Brown butter perfectly: 5 Mistakes to Avoid When Making Brown Butter
After a long and blustery winter, the first signs of spring produce can feel like an oasis at the grocery store and farmers market. This week we're sharing the produce-packed recipes you'll need to celebrate the debut of asparagus, radishes, and tender young carrots.
Brown Butter Radishes
4

small bunches radishes (about 2 pounds total), tops removed and halved

1

tablespoon

olive oil

Kosher salt

Freshly ground black pepper

2

tablespoons

unsalted butter

Juice of 1/2 medium lemon (about 1 1/2 tablespoons)

Flaky sea salt, for serving
Arrange a rack in the middle of the oven and heat to 450°F.
Toss the radishes with the oil, a pinch of salt, and a few grinds of pepper in a large bowl. Transfer to a rimmed baking sheet and arrange them cut-side down. Roast until the bottoms have browned a little and they are crisp-tender, 10 to 12 minutes.
Meanwhile, melt the butter in a large frying pan over medium heat. Swirl the pan occasionally, until the butter has a nutty aroma and is toasty-brown, about 3 minutes. Remove the pan from the heat, add the radishes and lemon juice, and toss to combine. Sprinkle with a couple of pinches of flaky sea salt and serve.
Recipe Notes
Storage: Leftovers can be stored in an airtight container in the refrigerator for up to 5 days.
More posts in 5 Recipes to Make Your Spring Green Dreams Come True