Recipe: Berry-Ginger Gin Cocktail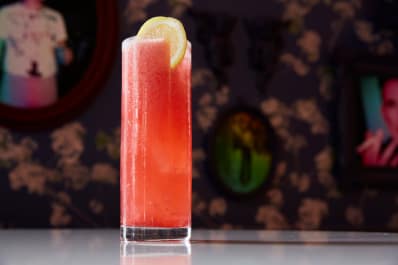 (Image credit: Tara Donne)
Move over, mint julep — our money is on this refreshing sipper for the win. At the very least, we're predicting a dead heat for the old favorite and this Derby Day maiden.
Before any traditionalists get up in arms about this untried underdog, rest assured: This cocktail is Kentucky-born. It comes to us from Proof Bar at the 21c Museum Hotel in Louisville and it's just the thing for watching the races or just celebrating the fact that spring is finally here.
The base spirit for this cocktail is gin — but not your standard-issue London Dry gin. This recipe calls for a more floral gin like New Riff Kentucky Wild Gin, where the juniper flavors are a bit softer. (We also like St. George Botanivore Gin, The Botanist, or Nolets).
Ginger and basil give this drink a hint of spice, lemon juice adds acid and brightness, and fresh raspberries lend just the right amount of sweetness. Finally, club soda to finish makes this a refreshing sipper — and one that won't (unlike a julep) make you feel like you've spit the bit before the race even starts.
(Image credit: Tara Donne)
Bare Minimum
Makes 1 cocktail
For the ginger syrup (makes 1 1/2 cups, enough for 12 cocktails):
5 ounces fresh ginger (1 medium hand)
1 cup granulated sugar
1 cup water
For 1 cocktail:
1 fresh basil leaf
6 raspberries
1 1/2 ounces New Riff Kentucky Wild Gin (or other floral gin)
1/2 ounce freshly squeezed lemon juice
Ice
4 ounces club soda
Lemon slice, for garnish (optional)
Peel the ginger and chop into rough 1/4-inch pieces. Place in a small saucepan, add the sugar and water, and bring to a boil over high heat, stirring to dissolve the sugar. Reduce the heat to medium and simmer for 30 minutes.
Strain the syrup through a fine-mesh strainer into a heatproof medium bowl, measuring cup, or glass jar, pressing on the ginger with the back of a spoon. You should have about 1 1/2 cups of syrup. Cool to room temperature.
Place the basil, raspberries, and 1 ounce of the ginger syrup in a cocktail shaker. Muddle for 30 seconds and the remove the basil. Add the lemon juice and gin, then fill the shaker with ice. Cover and shake until the outside of the shaker is frosty. Strain into a Collins glass. Add the soda water and top with ice. Garnish with a lemon slice, if desired.
Recipe Notes
Make ahead: The ginger syrup can be made and refrigerated for up to 1 week.
(Image credit: Rotem Raffe)