Recipe: 5 New Takes on the Classic Neapolitan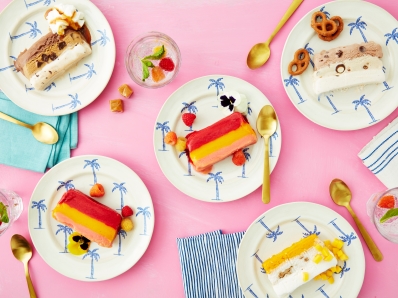 (Image credit: Ghazalle Badiozamani)
Although it doesn't have a clear origin story, Neapolitan ice cream was introduced in the late 19th Century, and was named for the legendary scoop masters of Naples, Italy. Although its three colors are believed to represent il Tricolore, the triple-colored flag of Italy, the flavors were pretty much chosen because that's what was available. Now, we're not trying to knock the classics — strawberry, vanilla, and chocolate are hard to beat — but the availability of literally hundreds of flavors of ice cream, gelato, and sorbetto is one of the many reasons why it's exponentially better to live in the 21st century. (Indoor plumbing is pretty great too.)
Take Talenti, for example. Talenti has more than 40 flavors of gelato and dairy-free sorbetto, all crafted with the kind of fresh, flavorful ingredients that would blow the doors off even the best freezer in 19th century Naples. So why not design your own Neapolitan-style ice creams this summer? We promise the hardest part is just picking which Talenti flavors to use. And for that, we've got you. Here are five trios we can confirm are molto fantastico...
Neapolitans
3

pints

Talenti Gelato/Sorbetto (flavor combinations listed below), softened
Prepare the pan: Line a standard 9 x 5-inch loaf pan with a sling made from a double layer of heavy duty aluminum foil that hangs over the longs sides by several inches. (about 4 inches on either side)
Layer the Talenti Gelato or Sorbetto and freeze: Spread the softened Talenti Gelato or Sorbetto Flavor 1 in an even layer on the bottom of the prepared pan. Wipe the sides of the pan to remove any excess, then press a piece of plastic wrap over the gelato and freeze for 1 to 1 1/2 hours or until firm. Repeat this process with the remaining two flavors of Talenti Gelato or Sorbetto. After the final flavor is added, freeze until very firm, 4 hours or overnight.
Unmold and serve: Run a butter knife along the short ends of the pan between the pan and ice cream. Remove the plastic wrap and invert the pan onto a serving platter. Remove the pan and aluminum foil. If you have trouble removing the pan, drape a warm, damp tea towel over the pan for a few seconds to help release. Cut into 1-inch thick slices and serve.
Recipe Notes
The gelato/sorbetto should be slightly softened — enough to be scoopable and molded, but not completely melted; this is best achieved in the refrigerator. Soften in the refrigerator for 30 minutes to 1 hour for an even, scoopable texture.
Make Ahead: Neapolitan can be made 5 days in advance and stored, tightly wrapped, in the freezer.
OK, got all that? Now the fun part. Here are some flavor combinations to kickstart your new Neapolitan obsession:
(Image credit: Ghazalle Badiozamani)
Death by Peanut Butter
Chocolate Peanut Butter Cup + Vanilla Bean + Peanut Butter Pretzel
This will not cause actual death, even if you are sensitive to powerful flavor combinations.
(Image credit: Ghazalle Badiozamani)
Mint Chocolate Brownie
Fudge Brownie Gelato + Mediterranean Mint Gelato + Double Dark Chocolate Gelato
Talenti literally invented a giant mint steeper for the mint in this gelato. Don't tell the other flavors, but it's the star of this production.
(Image credit: Ghazalle Badiozamani)
Roman Summer Sorbetto
Alphonso Mango Sorbetto + Blood Orange Sorbetto + Roman Raspberry Sorbetto
This one is the It-girl of Neapolitans: an homage to Audrey, and completely dairy-free.
(Image credit: Ghazalle Badiozamani)
Caramel Crunch Brownie
Fudge Brownie + Caramel Cookie Crunch + Sea Salt Caramel
Everyone thinks they understand what real love is but, until you've tried this, can you really be sure?
(Image credit: Ghazalle Badiozamani)
Key West Bound
Alphonso Mango Sorbetto + Caribbean Coconut + Key Lime Pie Gelato
This is basically a tropical vacation, without the sunblock, the sand in your nether-regions or the inevitable middle seat on the plane.
It's been said that three's a crowd, but with these flavor combos can we all agree that three's company? Find out where to buy Talenti gelati and sorbetti at talentigelato.com.
This post was created by the Kitchn Creative Studio and is sponsored by Talenti.
Thank you for supporting the brands that make Kitchn possible.