Reader Review: Matisse & Jack's Energy Bar Mix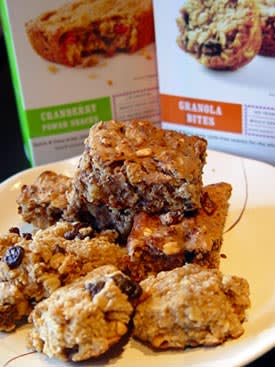 [Maya was the winner of our Matisse & Jack's energy bar mix giveaway a few weeks ago. Read on for her great review!]
Thanks to Matisse & Jack's rebranding, I was lucky enough to receive all four of their new products. I decided to try out their Cranberry Power Snack first, since it's the one I was asked to review, but I had so much fun baking the bars and (yes) eating them, that I decided to do a marathon bake week and try out three of the four boxes I received. I froze some bars for myself and the rest I shared with my roommate and coworkers. They went fast!
The cranberry bar came together rather quickly, though my add-ins definitely slowed things down a bit. I would say ten minutes from start to finish, between toasting my walnuts, adding a scoop of whey protein powder and realizing that my only baking pan was 2 inches too big. There are several suggestions of what liquids to mix into the base - I opted for the apple sauce/oil/ water combo, although the buttermilk version did sound good.
The bars baked in just-under 30 minutes. My roommate and I both agreed that they tasted more like a coffee cake than a power bar. They were rather soft and crumbly and not overly sweet, which I was happy about. The walnuts I added gave just the right amount of crunch and nuttiness to complement the tang of the cranberries. Definitely something I'd have with a warm cup of something later in the day. The true test of a power bar though is if it can keep me from getting major hunger-pangs between lunch, my evening workout, and dinner. These did famously.
Would I actually spend $5.99 on this mix? Realistically, probably not, for something I can make myself from scratch for far less. But for someone wanting the convenience of a mix and the satisfaction of baking a power bar at home - I definitely recommend these as the tastiest non-power-bar-tasting power bars I've had.
Of the three products I tried, the cranberry bars were by far my favorite. I found the Chocolate Chip Power Snacks too sweet for my taste, and the granola bite were basically a glorified oatmeal raisin cookie. They were good but not great. I added peanut butter to the granola bites, and baked them as cookies instead of in mini-muffin tins (didn't have any). The peanut butter helped, but still didn't raise the cookies to anything special.
On a different note, I want to congratulate Matisse & Jack's on a beautiful job at repackaging their product. The new packages are fresh and inviting, with gorgeous photography on the front and cute little tips and suggestions on the side. Very very tasty.
Maya