The Smartest Tips for Getting Raw Chicken Home from the Grocery Store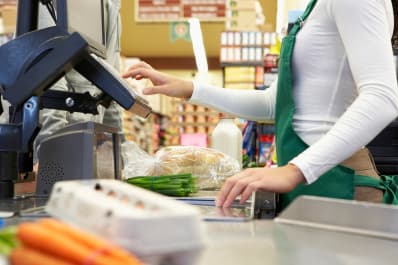 (Image credit: Noel Hendrickson/Getty Images)
Chicken is a crowd-pleasing protein many of us eat a lot — but raw chicken is often contaminated by bacteria that can cause food poisoning, like salmonella. In fact, every year about a million people get sick from eating poultry that's contaminated with harmful germs, according to the CDC.
While that stat might make you never want to eat chicken again, keep calm! Safe handling and cooking practices can kill the bad bacteria and prevent it from spreading to other foods, too. The first step: Getting your raw chicken safely home from the grocery store. Here's what to do.
1. Pick out the chicken last.
Bacteria grows quickly at room temperature, so you want to keep raw chicken chilled for as long as possible (that includes when you're thawing it — most of us know by now not to do it on the countertop). So if you know you're going to be making a long trip through the aisles of the grocery store, plan to hit the poultry section last to keep it cool for longer.
2. BYOB.
Plastic bag, that is. When you pack your reusable totes for your grocery store trip, toss in an extra plastic bag while you're at it (or grab one in the produce department). Place your chicken right into the plastic bag before setting it into your grocery cart, and keep it in there all the way home. That way, if any juices leak out of the container (or have leaked onto the container) they won't contaminate other foods or your hands.
3. Disinfect.
Right after handling your packaged chicken, disinfect your hands with gel or a wipe while at the store. Use soap and water when you're at home.
Related: 5 Things to Know About Cleaning Up Leaked Meat Juice
4. Group it with other cold stuff.
First in your cart, and then in your take-home bag, group together refrigerated and freezer items, like milk, frozen veggies, and, yes, your plastic bag of chicken. All those cold items will help insulate each other to maintain their cooler temperatures for the trip to the register and beyond.
5. But watch out for sharp corners.
While you're packing your chicken in your cart and bag, look out for boxes or plastic packaging that could poke the wrapping on your chicken container and cause a leak.
6. Be smart when picking out a shopping tote.
Instead of just using cloth bags to bring your food home, consider using an insulated tote to transport your chicken and other refrigerated goods. This is especially useful if you have a long walk or drive home or are shopping in the dead of summer.
If you have space in the trunk of your car (a spot that can get shockingly hot in the sun), consider outfitting it with a small-ish cooler and ice packs before your shopping trip and toss your chicken in there for the drive home.
7. Put groceries away immediately.
Even if you've got a carful of kids to unpack along with your groceries, try to get your raw chicken into the fridge ASAP. (And put it on the bottom-most shelf.) If all your cold-storage items are in one spot to begin with, you can do this quickly and work on the rest of the groceries later.