Rachael Ray's Hamptons Home Has Two Kitchens and One Ill-Placed Fireplace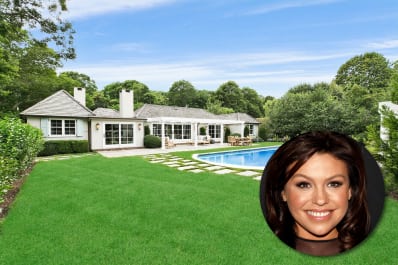 (Image credit: Tinseltown/Shutterstock)
I've been sneaking peeks at several celebrity kitchens lately. From Beyonce to Katy Perry, they've been totally over the top (in a good way). This time around I'm checking out Rachael Ray's up-for-sale Hamptons home. The asking price is $4.69 million and it has not one, but two kitchens!
But before you start packing your bags, you may want to look closer. Do you see what I see?
This kitchen from the 30-Minute Meal maven herself is light, bright, and open. You can easily see yourself entertaining friends and family and cooking in this easy space.
But wait: Is a white rug and oversized ottoman just waiting for pasta sauce? Don't even get me started on the window seat, which may be lovely, but would you be willing to sacrifice that chunk of countertop space?
I'm willing to overlook almost all of those things, except then there's the fireplace. I draw the line at A FIREPLACE NEXT TO THE REFRIGERATOR.
What's that, you say? You wouldn't care if it was your kitchen? Well, that's probably true. If I could move into a $4.9 million home, I'd probably be pretty content, and my fluffy cats who are always underfoot while cooking would make good use of the window seat.
Still, the placement seems awkward at best. Imagine the trips you'd have to take, crossing the hearth every time you carry something to and from the fridge. Not to mention, it's definitely not the most energy-efficient.
Another thing that confuses me: There is an identical fireplace in the living room a few feet away!
The quaint little kitchenette in the carriage house, on the other hand, seems perfectly normal — great for entertaining poolside.
Do you want to move in? This six-acre lot can be yours for just $4.9 million dollars! Check out the full listing over on Zillow.