Marina's Chile Relleno with Pecan Cream Sauce Quick Weeknight Meals Recipe Contest 2009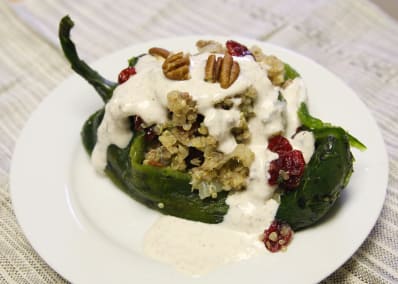 Recipe: Chile Relleno with Pecan Cream Sauce
Category: Omnivore
How long does it take? 45 minutes
Name: Marina
Why is it a favorite meal? This is more of an impromptu dinner party dish. It looks like it should've taken all day to make but it's surprisingly quick!
Chile Relleno with Pecan Cream Sauce
This is an easier spin on a traditional Mexican dish, Chiles en Nogada. With the lean bison and quinoa it's a healthy, well-rounded dinner.
Ingredients
4 Poblano peppers (must use this kind of pepper)
1 cup uncooked quinoa
1/2 pound of ground Bison (sustainable and leaner)
1/2 white onion, diced
1 small zucchini, chopped
1 small tomato, chopped (optional)
1 clove garlic, diced
1/2 cup sour cream
1/4 cup milk
1/4 cup pecans (may be toasted)
1/2 cup dried cranberries
1/2 tsp cinnamon
1/2 tsp salt

Cook the quinoa with 2 cups water for 15 minutes. While this is cooking, roast the poblanos directly on the flame of the stove or in the oven, turning often. This takes about 10-15 minutes and you can fit 2 poblanos per burner. They are done when they are almost all covered in black. Put them in a paper bag to steam the skin so it comes off easily. When they cool down, rinse them in running water to remove the burned outer layer of skin. At this time, you can also cut one slit in them and rinse out the white seeds inside.
Making the picadillo: Brown the meat in a large pan, and when close to finished, add the onions. Cook for 5 minutes and then add the zucchini, garlic, salt, and cinnamon. Saute another 5 minutes, adding oil if it gets too dry, and add the tomato. Cook for a couple more minutes and turn off the heat. Add the cooked quinoa and cranberries to the pan and mix.
Blend pecans, sour cream, milk, and a dash of salt. An immersion blender is useful for this, but you can also use a food processor or blender. Place the poblano on a plate and fill with the picadillo. Drizzle the sauce on top and serve! The dish is not meant to be hot, the cool poblanos and sauce get warmed up by the filling. It's great on its own but could be served with black beans or a warm tortilla.
Thanks Marina, and good luck! Readers, give Marina a thumbs up if you like this recipe!