Kathleen's Chicken Tinga Tostadas Quick Weeknight Meals Recipe Contest 2009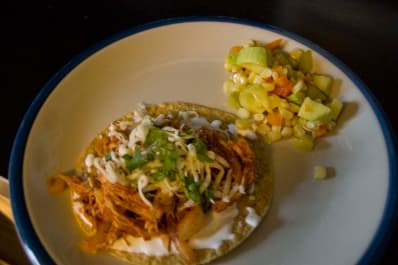 Recipe: Chicken Tinga Tostadas
How long does it take? 30-40 minutes
Category: Omnivore
Name: Kathleen
Why is it a favorite meal? I can get all the ingredients at my local corner store. It's flavorful and a bit different for the middle of the week — also easy to increase for weeknight guests.
Chicken Tinga Tostadas
INGREDIENTS
For tinga:
One onion, thinly sliced, divided
1.5-2 pounds chicken breasts or thighs
Salt
Pepper
Dried oregano
Olive oil for pan
3 cloves of garlic, minced
1-2 chipotles in adobo, minced
3-4 tablespoons tomato paste
1-2 fresh plum tomatoes, sliced (optional)
For serving:
Tostadas
Sour cream (Mexican-style crema if possible)
Grated Monterrey Jack or other white cheese
Choppped cilantro, avocado, lettuce (optional)
INSTRUCTIONS
Combine half of sliced onion, chicken, salt, pepper, and oregano in large pot and cover with water. Boil, then cover and simmer until chicken is cooked through, about 15 minutes. Remove chicken and shred with two forks. Reserve poaching liquid.
In a large saucepan on medium high, heat oil. Add half of sliced onion and garlic and cook until onion softens. Add chipotles and tomato paste, stir and cook for 1-2 minutes. Reduce heat and add poaching liquid, a few tablespoons at a time, stirring to create a smooth sauce. Add shredded chicken and fresh tomatoes (if using) and stir to incorporate. Cook on low 5-10 minutes, until tomatoes are softened.
To serve, spread a thin layer of cream on a tostada. Top with tinga. Add cheese and additional toppings as desired. Enjoy!
Thanks Kathleen, and good luck! Readers, give Kathleen a thumbs up if you like this recipe!