The Quarantine Cooking Gift I Didn't Know I Needed
We independently select these products—if you buy from one of our links, we may earn a commission. All prices were accurate at the time of publishing.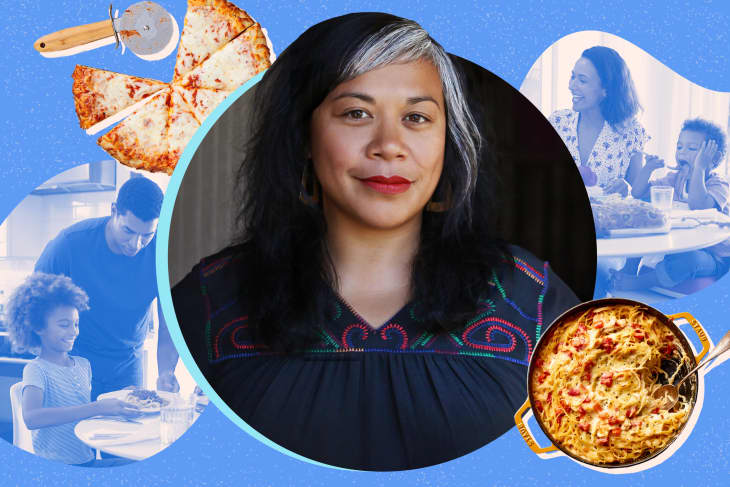 If I could stop cooking, I would. As we near a year of quarantine living, it's clear that feeding a family of four every day is hard work. Most days it feels like it. I've always loved cooking, so witnessing one of my life's pleasures turn into a tedious obligation has been demoralizing. But giving up isn't an option. This fall, I vowed to put my head down and keep cooking, even if through gritted teeth. Just after I made that vow, though, something miraculous happened: I was gifted one meal a week that I never have to cook, and this meal has helped me find joy in the kitchen again.
Like many people, our family's survival and sanity rely more than ever on community and interdependence — or, to put it in the language of 2020, our "pod." Our pod (the only people we see unmasked and indoors) is another family of four: two adults and their two daughters, ages 6 and 2, the same as ours. Our (virtual) kindergarteners play together every day after school. We rotate houses and take turns picking up our toddlers, who are classmates, from daycare. 
It started simply enough — they invited us to dinner at their place on a Wednesday night. Then they invited us again. Within a few weeks, it became a standing date. The meals they cook are always comforting, family-style favorites: spaghetti and meatballs, enchiladas, pizza, split pea soup. There has also been, memorably, oxtails — the bones begging to be picked up and the slippery meat sucked off — in a rich broth, and stewed tomatoey white beans topped with a mountain of spiced shrimp. Their generosity never fails to astound me. 
Over these Wednesday dinners, we have weathered toddler meltdowns, election uncertainty, a few health scares, and the general stress of life. Together. I have shown up to their house in various states (sleep-deprived, overwhelmed, angry, close to tears) and the reaction is always the same: to be listened to, then offered a hot meal. The day rioters stormed the Capitol, as the kids watched Rescue Riders in the other room, we talked about our fears as we set the table and pulled condiments out of the fridge.
Watching my friends in their kitchen, seeing them take once familiar pleasures in cooking, is inspiring. I note the well-laid mise en place; I appreciate the meal built around ham hocks impulsively purchased at the butcher; I relish discussing the texture of the egg noodles newly discovered at Costco; my heart swells as our children lick their lips and ask for seconds. 
So much of pandemic life is defined by loss and deprivation. But the meals at our friends' table fuel abundance. Now when I make soup, I instinctively double the recipe so that I can share a couple of quarts with them. I bake two loaves of banana bread instead of one, happy to picture them having dessert. We hosted our pod for Thanksgiving and Christmas Eve, when my spouse and I prepared a traditional Filpino Noche Buena feast: fresh-fried lumpia, pancit bihon, pork afritada. As they sat at our table, I saw tensions in their bodies ease, their satisfied faces. I knew we had given them the same things they offer us week after week. To share my food and culture, to welcome people exactly as they are, to create space for friends to become family — that's why I cook. What a relief to be reminded.