Prost! Oktoberfest Beers Are Something Worth Celebrating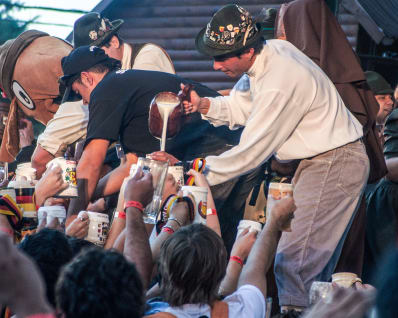 You all know Oktoberfest — beer tents, steins of beer, dancing, long lines for the bathrooms. Good times. But how much attention are you paying to the beer in your glass? Take a moment before you snag your next sausage roll to truly appreciate these Oktoberfest beers. Rich, malty, and absolutely perfect as we transition into fall, a good Oktoberfest is something truly worth celebrating.
Oktoberfest beers evolved as a result of a conundrum. Namely, fall has been (and always will be) the start of the real beer-drinking season, but in the days pre-refrigeration, a beer brewed during the summer in preparation for this moment will go funky and sour in the hot weather before it has a chance to hit your glass. And not in a good way.
The solution? Brew the beer in the spring and let it age in chilly cellars and caves all summer long. Not only is this a great way to use up the last of the winter grains, but it guarantees a delicious beer come autumn. I also appreciate the poetic nature of opening the new season with the end of the last.
The fact that Oktoberfest beers were traditionally brewed in the spring is why you'll sometimes hear them called "Märzens," which means "March" in German. These days, refrigeration allows us to brew an Oktoberfest whenever we like, but the beer still benefits from a long, cold slumber before serving.
Some technical details for the beer geeks out there: Oktoberfests are lagers, which means they are brewed with bottom-fermenting lager yeasts and do best if allowed to ferment at cool temperatures. Traditionally, they are a blend of primarily pilsner malts and munich malts. Noble hops (especially Hallertau) might be used to add some bitterness, but most Oktoberfests have little or no hop flavor or aroma. This lets the clean, malty character of the beer take center stage. The alcohol should also be no more than 6%, theoretically allowing you to have a stein or four over the course of your 'Fest without winding up under the table.
Do you love Oktoberfest beers? Which ones are your favorite?
Oktoberfest Beers to Try:
Hacker-Pschorr Oktoberfest — The original, all the way from Bavaria
Samuel Adams Oktoberfest — As former Boston resident, this will always have a special place in my heart and in my fridge.
Brooklyn Oktoberfest Beer — Solid lager; you can't go wrong.
(Image: Ran Dembo / Shutterstock.com)
Kitchn supports our readers with carefully chosen product recommendations to improve life at home. You support us through our independently chosen links, many of which earn us a commission.