Product Review: Hurom Slow Juicer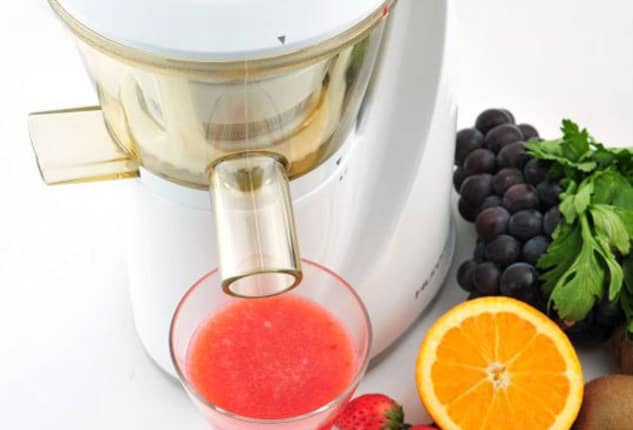 Meet my new favorite kitchen appliance. A juicer is not a necessity (though some might insist otherwise!), but I'm definitely smitten with the Hurom Slow Juicer. Here's why I've replaced my old juicer with this one…
Centrifugal Juicers versus Masticating Juicers
There are two main types of juicers: centrifugal and masticating. Centrifugal juicers are the most common variety of household juicer; they work by grinding fruits and vegetables into a pulp and forcing the juice out from the pulp by spinning at high speeds. Masticating juicers more slowly crush and squeeze the juice out of fruits and vegetables. The Hurom Slow Juicer is this latter type.
Product Details
The Hurom Slow Juicer's upright design is a new take on masticating juicers, which are generally built in a more space-hogging, horizontal design. It measures 6.81 x 9.84 x 15.83 inches and weighs about 11.5 pounds. Power consumption is an energy-efficient 150 watts and the motor spins at a slow 80 RPM. Accessories include two pitchers for juice and pulp collection and a cleaning brush. It is made from GE Ultem material and is BPA-free. The motor comes with a 10-year warranty.
Pros and Cons
Some people claim that masticating juicers produce less heat than centrifugal styles and therefore preserve the enzymes in the juice. Hurom also advertises that this juicer "preserves more vitamins and antioxidants." I can't speak to those claims, but here's what I did like:
The Hurom Slow Juicer's upright form has a relatively small footprint, and unlike some of the industrial-looking masticating juicers on the market, this actually looks nice on a counter. It's heavy, sturdy, and seemingly very well made. In operation, the juicer is very quiet – a plus when I'm making juice early in the morning and don't want to wake the neighbors! It also doesn't rattle around like many home juicers tend to do.
One thing that initially turned me off is that you have to cut some fruits and vegetables into smaller sizes before feeding them into the juicer. No dumping whole apples or carrots into this thing. However, after a while I got used to it, and the ease of cleaning the machine (more on that later) made this extra step in the beginning worth it. The juicer comes with a pusher but most of the time I found it unnecessary, as the fruits and vegetables got quickly sucked into the center.
Every fruit or vegetable I've tried, from beets to kale, has juiced extremely well. Juice comes out one spout, while pulp comes out the other. The pulp itself is pretty dry, meaning that a lot of juice is extracted. The juice has some foam but less than centrifugal-type juicers. I have also noticed that the juice seems smoother doesn't separate.
Now for cleanup, which is one of the points that really sold me on this juicer. To "self-clean" between batches, you can just run water through the juicer. When it come times for a thorough clean, the components lift out with ease and can be rinsed with water and a little soap, if you wish. Because the pulp has been ejected rather than whipped around, there's usually very little to scrub from the strainer. Cleaning the Hurom Slow Juicer is quick and painless.
Summary
I was initially skeptical of the claims that this is a "revolutionary" juicer but after testing it for a week, I was so convinced that I asked to buy the one I received to test! Excellent juice extraction, very little noise, and ease of cleanup have made it a joy to make juice every single day, and I'm also looking forward to trying some of the other suggested uses, like making soy milk, almond milk, and tofu.
Do any of you own the Hurom Slow Juicer? What do you think?
• More information: Hurom Slow Juicer
• Buy it: Hurom Slow Juicer, $359 at Amazon
Related: On Drinking a Pile of Vegetables for Dinner
Apartment Therapy Media makes every effort to test and review products fairly and transparently. The views expressed in this review are the personal views of the reviewer and this particular product review was not sponsored or paid for in any way by the manufacturer or an agent working on their behalf. However, the manufacturer did give us the product for testing and review purposes.
(Image: 1: Hurom USA; 2-10: Emily Ho)
Kitchn supports our readers with carefully chosen product recommendations to improve life at home. You support us through our independently chosen links, many of which earn us a commission.