Giada De Laurentiis Gave Prince William Some Culinary Advice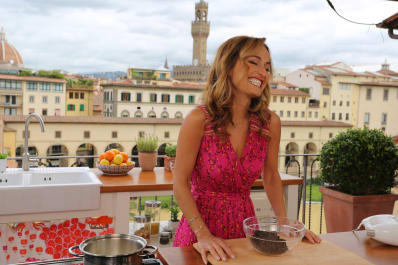 (Image credit: Courtesy of Giada de Laurentiis)
British royals are Food Network fans, just like the rest of us. Except that when they have cooking problems, they get to go right to their favorite chefs and ask for help in person. So when Prince William needed help making lasagna, he went right to Giada De Laurentiis and asked her to tell him what he was doing wrong — and he absolutely made her day when he did it.
De Laurentiis cooked for Prince William and the Duchess of Cambridge, formerly known as Kate Middleton, at the Foundation Polo Challenge in Santa Barbara, CA, in 2011.
De Laurentiis has been on TV since 2003 and has three Emmy Awards and eight books — but even with all her success, she says cooking for the then-newlyweds was a career highlight for her: "I was floored when they gave it to me," she told PopSugar. "There's been a lot of things that I've done, and in my work life, it's probably one of my highlights."
It was a lucky meeting for Prince William, too, because he'd been having some trouble in the kitchen. He had tried to make lasagna to impress his wife, but it turned out he was terrible at it. (Maybe because the Queen doesn't allow garlic at Buckingham Palace.) When he met De Laurentiis, he asked her what was the key to a great lasagna.
"You've got to make sure that you have enough sauce to get a nice crust on top and you've got to let it sit before you cut into it," De Laurentiis told him. "It has got to set, otherwise it'll just be a pool of mess."
That's actually really good advice. It's tempting to cut into a lasagna as soon as it comes out of the oven all hot and bubbling and looking delicious, but a lasagna absolutely has to rest for a few minutes. There's a lot of liquid in lasagna, and when it first comes out of the oven it's usually super runny. If you cut into it then, the noodles will slide all over and the lasagna will turn into a soupy, runny mess. Letting a lasagna sit for about 10 minutes lets it reabsorb the juices so it comes out looking and tasting like a lasagna should.
If Prince William followed De Laurentiis' advice, his second lasagna attempt probably turned out much better.