3 Easy Solutions to Your Holiday Snack Emergencies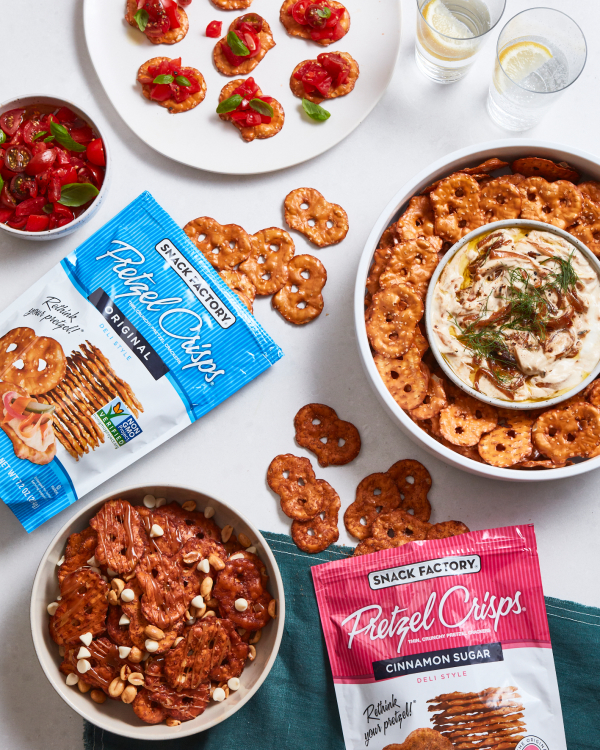 (Image credit: Ryan Dausch | Kitchn)
Surprise! Everybody's plus-one is bringing a plus-one, and your in-laws just decided to stay another week. This, friends, is a holiday emergency. And while we can't help you rustle up more beds or fake-smile through another story about your brother and sister-in-law's Tuscan vacation, we can help you feed everybody without going crazy. These three merry-in-a-minute recipes all rely on pantry staples and one grocery-store all-star: Snack Factory® Pretzel Crisps®.
(Image credit: Ryan Dausch | Kitchn)
Bruschetta
It's a party must for a reason: Everyone loves it. Swapping out the traditional bread for Snack Factory Pretzel Crisps makes for a fresh counterbalance to heavy holiday meals. A store-bought topping makes it even easier (ideal when you've got unexpected mouths to feed).
What You'll Need
A jar of bruschetta and
Original Deli Style Pretzel Crisps
. You can easily make it a little fancier by chopping tomatoes and tossing with olive oil and fresh basil.
(Image credit: Ryan Dausch | Kitchn)
French Onion Dip
Delicious before dinner and during the big game, this crowdpleaser belongs in your fridge at all times. Ours comes together in a flash and subs Greek yogurt and Snack Factory Pretzel Crisps for a lighter spin on the rich classic.
(Image credit: Ryan Dausch | Kitchn)
Churro Pretzel Party Mix
Want to keep a house full of restless kids happy? Enlist their help making this sweet snack, inspired by churros and starring Cinnamon Sugar Pretzel Crisps. We guarantee they'll love it—if there's any left after the grown-ups get to it.
Visit Snack Factory Pretzel Crisps online to find recipes for any holiday snack-mergency.
This post is sponsored by Snack Factory® and was created by Apartment Therapy Creative Studio.
Thank you for supporting the brands that make Apartment Therapy possible.