Our Favorite Canned Tuna Is Also Amazon's Most Popular Canned Product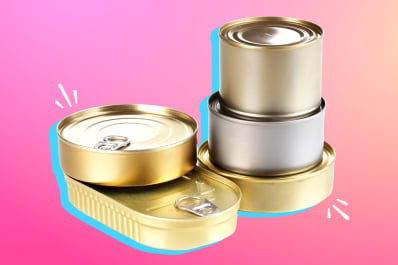 (Image credit: Africa Studio/Shutterstock)
If you're mind-blowingly bored and are looking for a not-at-all-productive-but-very-illuminating way to pass the time, BOY do I have a riveting activity for you.
Amazon updates their most popular products based on sales (in any department) every single hour. Are you curious which arts, crafts, and sewing supplies are flying off (warehouse) shelves at any moment? What about collectible coins? Or the rabbit hole that is the ukuleles, mandolins, and banjos department?
Because we're kind of obsessed with grocery items here at Kitchn (obviously), the canned, jarred, and packaged department what is fascinates me most. In an attempt to discern what America's online purchasing habits are in the nonperishable arena, I have been hitting refresh every hour in search of patterns. From this point forward, I would like to be referred to as the Sherlock Holmes of Amazon's Canned Goods.
While some items on the list fluctuate hard (Chef Boyardee Overstuffed Beef Ravioli, I'm looking at you), there's always one item that's consistently in the top five every time I check: Wild Planet Albacore Wild Tuna.
(Image credit: Wild Planet)
Wild Planet tuna made it onto our inaugural Kitchn 100 Grocery List earlier this year. And there's a reason that we (and clearly tons of others) love Wild Planet tuna products: Greenpeace ranks the brand extremely high in terms of sustainability and ethical practice. The tuna is sustainably caught using pole and line methods, intended to avoid overfishing and help protect the natural ecosystem. Plus, there are no additives. It's 100 percent pure tuna and sea salt, with a healthy dose of omega-3 fatty acids!
Sometimes, canned products can be questionable — especially canned fish. But there's nothing fishy about Wild Planet canned tuna. Bring on the tuna melts!
Kitchn supports our readers with carefully chosen product recommendations to improve life at home. You support us through our independently chosen links, many of which earn us a commission.