This Potato-Washing "Hack" Doesn't Make Any Sense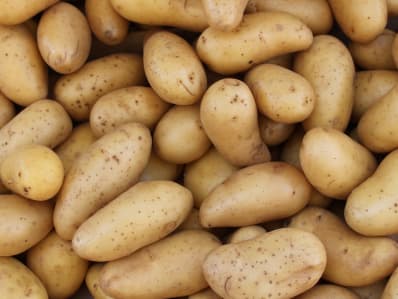 (Image credit: bofotolux/Shutterstock)
Since the advent of Pinterest, the world has been inundated with a tidal wave of tips and "hacks" designed to make our lives easier and more efficient. Some of those ideas are good! But some of them are real head-scratchers, like using a washing machine as a giant ice bucket, or the dishwasher to clean potatoes.
People Are Washing Their Potatoes in the Dishwasher Now, I Guess
Delish found the promising-looking potato-washing tip from a blog called Heavenly Homemakers, who suggested putting the potatoes on the top rack of an empty dishwasher and running it through the "rinse" cycle, instead of washing the potatoes by hand.
Rinse/hold cycles on dishwashers are short, 10 to 15 minute cycles that spray water but don't use soap, and they're ostensibly for rinsing off dirty dishes if you don't have enough in there for a full load, but don't want to run the risk of any leftover food getting caked onto the plates' surfaces and not coming off later. It's also a useful setting for those times you take out the "good" dishes and find they're all dusty.
Why This Potato-Washing "Hack" Isn't Very Helpful
The rinse/hold cycle might have its uses, but when it comes to turning the dishwasher into a giant potato washer, this has got to be one of the weirder kitchen "hacks" I've ever seen. Why would a person wash their potatoes in the dishwasher?
It doesn't save time: The rinse cycle takes 10 to 15 minutes, so it doesn't actually save time over washing them by hand.
You have to use all the potatoes right away: The dishwasher heat also partially cooks the potatoes a little bit, which means they must be cooked immediately, so you can't wash a whole bushel of potatoes all at once like this and put them in the pantry so they'll be clean and already washed by the time you want to use them.
Washing potatoes in the dishwasher could be useful if for some reason you needed to cook and wash a ton of potatoes all at once, like if you were making mashed potatoes for 100 people. But when cooking for fewer than 10 people, using this potato-washing "hack" seems considerably less efficient than just washing the potatoes yourself.
Also, there's a good chance many people's dishwashers do not have a rinse or rinse/hold setting at all anymore. It looks like many manufacturers have been phasing those settings out of many dishwasher models in recent years, because people weren't using them. Maybe the manufacturers didn't know about the potato trick, or maybe even the dishwasher makers are like, "Why would you ever want to wash your potatoes like this?"
What do you think of washing potatoes in the dishwasher?