A Week of Easy Plant-Based Slow Cooker Dinners
We
independently
select these products—if you buy from one of our links, we may earn a commission. All prices were accurate at the time of publishing.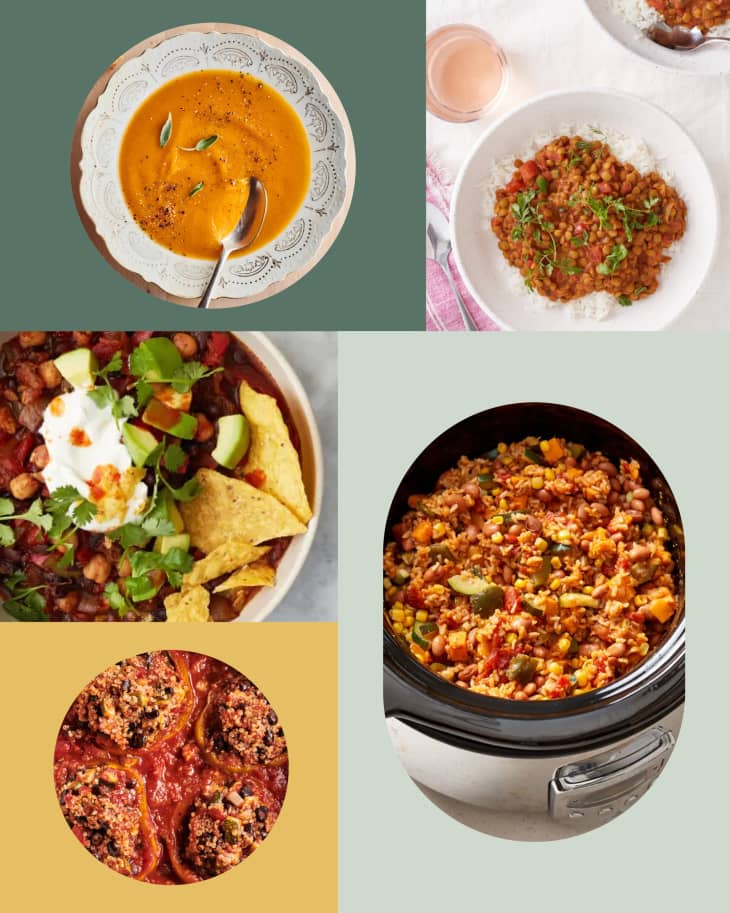 This meal plan is inspired by exactly what I need right now: Minimum-effort, maximum reward-dinners that are impossibly comforting and skip meat in favor of vegetables and plant-based protein, like beans, lentils, and whole grains. If it sounds like it's a lot to ask for, I assure you it's not. Each of these five plant-based dinners requires little to no upfront prep work and leans on the slow cooker for the heavy lifting. There's a good chance you'll have some leftovers, which can be repurposed into lunch throughout the week or stashed in the freezer for another week.
Whether you're cutting back on animal protein temporarily, following a plant-based or vegetarian diet full-time, or simply in need of inspiration for wholesome dinners that are guaranteed to fill you up, here are five to try.
Monday: Slow Cooker Butternut Squash and Sweet Potato Soup
I can't think of a more comforting and nourishing way to start the week than with a bowl of hot homemade soup for dinner. If you have the time, it's definitely worth par-cooking the butternut squash and sweet potato during weekend meal prep. It takes about 30 minutes, and gives the vegetables a more robust flavor, plus it shortens the time in the slow cooker. If that doesn't work, just toss everything in the slow cooker and plan for a little extra cook time. It's a nice idea to round out dinner with a simple salad. Any leftover soup and salad will make a great lunch throughout the week.

Get the recipe: Slow Cooker Butternut Squash and Sweet Potato Soup
Tuesday: Slow Cooker Vegetarian Chili
It's impossible for me to think about a slow cooker meal plan in winter without considering chili. This veggie-forward option keeps the ingredient list on the short side for chili, and starts with a couple of smart shortcuts to keep the cook time down. Don't forget the toppings! My favorite toppers for this chili are avocado, fresh cilantro, and tortilla chips. Save the leftovers for lunch later in the week or pop them in the freezer for another time.

Get the recipe: Slow Cooker Vegetarian Chili
Wednesday: Slow Cooker Stuffed Bell Peppers in Marinara Sauce
A mixture of hearty, protein-rich black beans and quinoa helps makes these saucy stuffed peppers will be plenty satisfying. If you have any wilting greens in the fridge, go ahead and chop the leaves, and mix them into the filling. Stir together the sauce, and prep and stuff the peppers — then the slow cooker does all the heavy lifting.

Get the recipe: Slow Cooker Stuffed Bell Peppers in Marinara Sauce
Thursday: Slow Cooker Coconut Lentil Curry
Aside from chopping an onion and garlic and opening a couple of cans, tonight's dinner is basically a hands-off affair. Dump all the ingredients (except the coconut milk!) into the slow cooker, and at the end you've got a warming dinner. If you have rice (or any other grain!) stashed away in the freezer, tonight's a great time to pull it out. Just give it a quick reheat before it's time for dinner.

Get the recipe: Slow Cooker Coconut Lentil Curry
Friday: Slow Cooker Veggie Burrito Bowls
Be sure to use brown rice, and to layer the ingredients in the slow cooker, as the recipe calls for. But other than that, you've got plenty of flexibility with tonight's dinner. Any type of canned beans you have in the pantry are fair game, and the same goes for the veggies. You can also swap out the regular sour cream for non-dairy sour cream for the topping, or just give your burrito bowls a generous squeeze of lime juice.

Get the recipe: Slow Cooker Veggie Burrito Bowls
New to meal planning? Start here.
Click below to get more tips, insights, and ideas from our Meal Plan Club crew and readers like you.
Meal planning isn't always easy — especially if you're just getting started. But we're firm believers that it's the secret to stress-free weeknight dinners. We want to help you find inspiration and ease some of the pain points that come with getting dinner on the table night after night, whether you're cooking one or a family of four or five. Every week we share a new meal plan solution specifically customized for you from reader requests or from a guest contributor, for Next Week's Meal Plan!