The Biggest Mistake You Can Make When Ordering Pizza to Go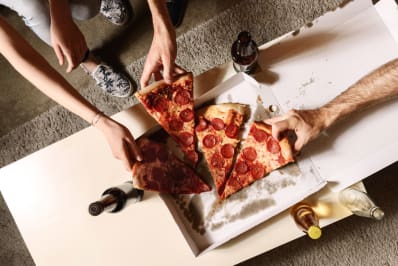 (Image credit: Milles Studio/Stocksy)
It goes without saying that not all pizza takeout is created equal. My first two apartments with my husband were in Brooklyn, and we had a bounty of options. We had our choice of Neapolitan, Detroit-style, deep-dish, you name it. Now, at our house in Summit, NJ, the choices are a little more limited, but there's enough. There's the Neapolitan place (no delivery, but we can pick up), the place that delivers in 15 minutes flat (although it's a little soggy), and the place that takes a little longer (the wait is worth it, we've found).
Despite all the differences in quality and style we've come across over the years, there's one thing we've learned that's true no matter where you're ordering from: It's better if you cut it yourself.
There are a few reasons for this. For starters, even when the pros cut the slices, the cuts never go all the way through. Then inevitably, when you go to serve yourself a slice, the bottom rips, the toppings slide off, and you're left with a sad, wet, tomatoey piece of torn bread. Also, without fail, the cheese and delicious oil almost always starts to pool between the slices and stick to/soak the cardboard.
I'm gonna go ahead and say it: Slicing a pizza too early is as bad as cutting into a rib eye before it's rested.
After ordering hundreds (thousands?) of pizzas to go, I've learned that it's best to tell the guys that you'll cut it yourself. This way, the pizza has time to cool slightly and the cheese can firm up a little before anyone starts messing with it.
If you're thinking, "Hey wait, didn't you guys once tell me I should ask for a double cut?" You are not wrong. See: The One Thing You Should Ask for When Throwing a Kids' Pizza Party. That's for impatient kids and larger crowds, though. If you're getting a pizza for just you and your roommates (your husband and kids, your BFF), this is the way you should be ordering!
When it's time, I like to use scissors. I got the idea from my aunt, who lives in Wisconsin and makes such incredible pizzas that people in her town exchange goods and services for one of her homemade pies. For what it's worth, she agrees with me: Her handwritten directions clearly state, "Let rest for 15 minutes, then cut with kitchen scissors." She actually underlines that sentence.
A quick note on scissors: Scissors are superior because, often times, when you're using a knife or a pizza cutter, you don't actually cut all the way through the dough. And we already know all the horrors that causes. With scissors, you make a more accurate, thorough cut. You have more control.
I now digress. Just try it, will you? Tell the place you'll cut the pizza yourself and then let us know how it went.