Meet Your New Food Baby: The Hero of Pixar's New Short Film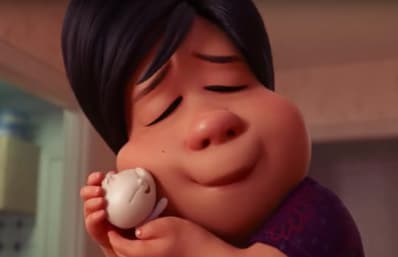 (Image credit: Pixar/ YouTube)
When The Incredibles 2 comes out this June, it's bringing along a little snack of a movie in the form of a 7-minute animated short called Bao, and it looks adorable.
Bao is the story of a Chinese-Canadian mom with no kids at home anymore, who gets another chance with a new baby when one of her homemade pork dumplings comes to life and turns into a cute little bun baby. Pixar just released the first trailer, and the animators definitely nailed the task of making a dumpling look and act like a real baby.
It's really cute, and I'm watching this trailer like, "Dangit, this dumpling is going to make me want another baby."
But a key point of the movie is that nothing stays cute and small forever. The sweet little baby bao starts to grow up, and the movie explores the ups and downs of the parent-child relationship between a mother and her food baby. (Apparently puberty for dumplings involves breaking out in sesame seeds.)
Director Domee Shi said the story was inspired by her own mom.
"Often times it felt like my mom would treat me like a precious little dumpling, wanting to make sure I was safe, that I didn't go out late, all that stuff," Shi said in an interview with EW. "I just wanted to create this magical, modern-day fairy tale, kind of like a Chinese Gingerbread Man story. The word 'bao' actually means two things in Chinese: Said one way, it means steamed bun. Said another, it means something precious. A treasure."
Shi's mother Ningsha Zhong is a Chinese-Canadian immigrant like the movie's protagonist, and she even consulted on the film and gave dumpling-making demonstrations to the animators, so they could make sure the dumpling technique in the film was just like hers.
It's really cute, and now I really want dumplings. Or a baby? No, probably just dumplings.